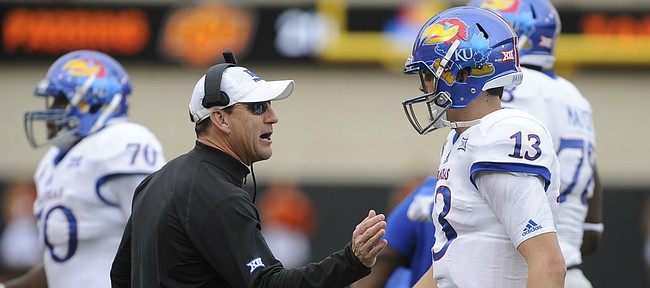 A little more than three years ago, Max Menchaca's life changed forever. In the opinion of his mother, Trace, the Menchaca family has Kansas football coach David Beaty to thank for Max's existence not taking a worse turn on that fateful day, when the coach saw her son suffer a horrific accident and leapt into action.
It was June of 2013, and Max, 16 at the time, was running and bouncing with some friends around a trampoline park in Houston called Cosmic Jump when he encountered a rip in one of the bouncy canvases and disappeared into the hole. Trace said her son crashed to a concrete floor four to five feet below the defective trampoline and fractured his skull.
"David Beaty jumped into the hole to help him," Trace told the Journal-World in a phone interview from her home in Houston.
It's not as if Beaty performed CPR or anything of that nature, Trace said, but he comforted her boy as Max suffered a grand mal seizure, losing consciousness while his muscles violently contracted. A receivers coach at Texas A & M at the time, Beaty talked with Max about Johnny Manziel. His mother thinks that simple interaction might have kept Max going.
"It was an amazing thing that (Beaty) happened to be there that day," Trace said, "because what he talked about in his deposition was his training as a coach — because he had a player or two before who had seizures or something like that — just kind of went into effect. And he was able to hold Max and keep him calm and talk to him and all that kind of stuff. It was just a miracle to us that that particular kind of person with that skill set was there at the park."
For a time, the Menchaca family only knew Beaty as "the man in the blue shirt." One of Max's friends happened to take a picture at the scene of the accident. It showed a barefoot Beaty, wearing shorts and a blue T-shirt, standing with the injured boy as paramedics helped him. The same photo went viral online Friday after Trace posted it on her Facebook page as a way to thank the coach for what he did.
However, his identity remained a mystery until Menchaca's case against the trampoline park progressed, and attorneys needed to find eyewitnesses. They discovered the helpful stranger was Beaty by checking the sign-in sheets at the facility from the day of the misfortune.
"We were shocked when we found out who he was," Trace said, explaining their household is a "Big 12 family." Trace is a Baylor fan, her husband Mike loves Texas and their daughter Lea attends Oklahoma State.
Already grateful for Beaty's impact on Max's life, that sentiment grew for the Menchacas during the trial this past March, upon hearing video depositions from the head coach and his wife, Raynee, both of whom witnessed the calamity up close.
Trace recalled the KU coach's description of why he decided to help: "I knew that this kid was somebody's family treasure and I would want somebody to take care of my kid like that."
According to court documents cited in a report on the case from Law360.com, the accident caused bleeding on Max's brain and led to significant memory loss and seizures. A jury eventually deemed the business 100 percent responsible for Max's injuries, and awarded him more than $11 million. Cosmic Jump in Houston was permanently closed.
None of the Menchacas, including Max, now 19, have had a chance to speak with Beaty in person since the incident. But that soon will change. The family reached out following the trial to thank Beaty, which led the coach to invite them to attend KU's Oct. 22 home game against Oklahoma State.
According to his mother, Max, a sophomore at Sam Houston State, can't wait for their trip to Memorial Stadium.
"He's just excited to go to a big game like that because he goes to a smaller school," Trace said. "And he's thrilled to be able to shake (Beaty's) hand and tell him thank you."
The family matriarch says the Menchacas always will think of Beaty fondly because of what he did. Trace said upon suffering such a traumatic brain injury, Max's personality changed.
"For us, David Beaty is the person who was with him those last moments when he was the old Max. That's what kind of makes it a real special thing for us," she said. "Our son was in his most critical moments and in a traumatic crisis. This person was here with him. And to know it was someone who is well liked and well respected, it's just an honor."
Trace said it took her a long time to grieve the loss of the Max she once knew. She said he lost the ability to do math as a result of the head trauma. But she shared he is a film major at Sam Houston State.
"We are big advocates for people with disabilities being able to try life," Max's mother said. "Even if everything says this kid won't ever graduate from college, because how's he ever gonna take the math requirements, we want him to at least try life and go to college and experience all that you can. That is our life takeaway from all of this. Even though he has this disability, he's still going to be able to do great things. They're just different things."
And, because KU's football coach played a part in her son's future, Trace always will root for Beaty.
"Anybody whose kid is in his program should feel fortunate," she said, "because if you're sending your kid to play for him, he's gonna take care of those kids."
More like this story on KUsports.com