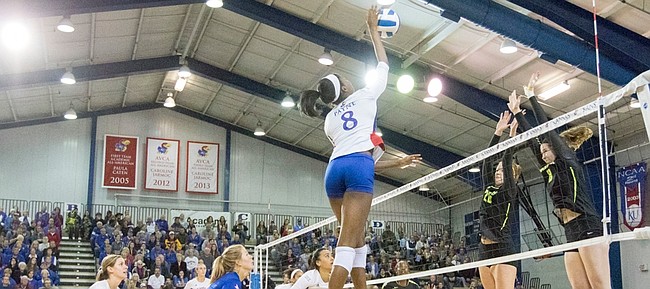 Just as the sun rises in the East and sets in the West, volleyball stars rise in the West and set, block, dig and kill in the West.
Or so goes the stereotype blown to bits last autumn.
"I think there are still some volleyball people who remember what happened 15, 20 years ago and still think those programs are relevant," Kansas volleyball coach Ray Bechard said. "Then people who are current have an idea what's going on. I doubt that the casual volleyball fan knows that all four Final Four teams were from the Central time zone, which has never happened before. That might have bruised the ego of the West Coast just a little, but that's OK."
National champion Nebraska, runner-up Texas and Final Four participants Kansas and Minnesota combined to permanently purge the obnoxious term "flyover country" from volleyball lexicon.
The American Volleyball Coaches Association top 25 preseason poll hammered home the point. Three Big Ten and two Big 12 schools form the top five: 1. Nebraska, 2. Texas, 3. Minnesota, 4. Wisconsin, 5. Kansas.
The Jayhawks rank so high in part because they return stars in the three vital areas.
"A setter, a libero and an attacker who can take over a match," Bechard said when asked to name the three best foundation blocks to build a winner.
Setter Ainise Havili and right-side hitter Kelsie Payne earned All-American honors as sophomores. Senior libero Cassie Wait set the school record for digs per set (5.19) in 2015, earned NCAA San Diego Regional All-Tournament honors and had the most amazing play in the winning rally vs. USC, which propelled Kansas to its first Final Four.
"Throw Tayler Soucie, a three-year starter and All-Big 12 player, into the mix and it's a good core to build around," Bechard said.
Excitement over how well the Jayhawks can follow their amazing act is so high that every seat in Horejsi is sold out for the entire season. That makes it interesting to see how big a crowd they draw to today's free-admission, 1 p.m. Crimson and Blue Scrimmage. How many who show up for the 10 a.m. football Fan Appreciation Day for football will break for a quick bite and make it over to Horejsi?
Those who attend won't be watching a complacent squad satisfied with resting on last season's accomplishments.
"I think we're all really hungry since we all got a little taste of what it's like to be on that national stage," Payne said. "I think it's made us anxious to get the season started and try to make our way back there."