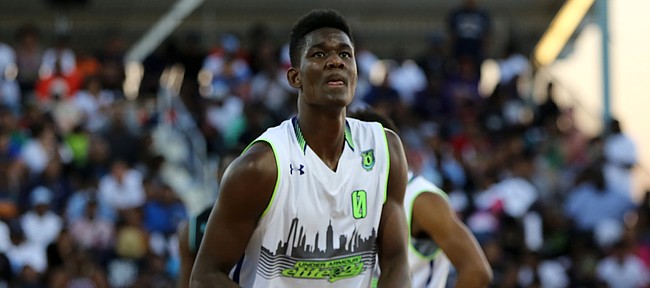 There's still a long way to go in the pursuit of 7-foot center DeAndre Ayton, Rivals.com's top-ranked prospect in the class of 2017, but Bill Self's Jayhawks certainly seem to be in a good position.
As has been reported, Kansas has been recruiting the Bahamas native longer than any other program and he already has spent some time in Lawrence and had a chance to develop a bond with the coaching staff.
"I firmly believe that Kansas, at least at this stage, is the team to beat for the elite big man," wrote JayhawkSlant.com's Shay Wildeboor this week. "There's absolutely no doubt that Kansas has invested the most time recruiting Ayton (and) Kansas, long ago, made it clear that he was a priority in the 2017 class."
According to his official profile page on the Rivals network, Ayton only has four offers at this point — KU, Kentucky, Arizona and Arizona State. A big reason for that is the fact that many believed the likelihood of him heading to college at all was small, but the five-star Hillcrest Academy (Phoenix) standout cleared that up earlier this summer by saying, "They think I'm not going to college, but I have to go to college. My mom wants me to go to college and that's what I'm looking for."
Since then, KU, UK and Arizona have remained at the top of Ayton's list, with several other schools trying to get into the mix. KU's loyalty and persistence appear to be paying off, though.
In his recent update, Wildeboor said he expected Ayton to make an official visit to Kansas at some point during his recruitment and deems KU, Kentucky and Arizona as the front-runners.
"Kansas has been there since ninth grade," Ayton told FloHoops.com in late July. "They show me a lot of love, sending me letters and stuff like that. They have been coming to every game since I was in ninth grade, and that's big, man. I want to see the full experience at Kansas. I saw their weight room and stuff like that, but I want to see the whole campus."
Reports have varied about when a decision might come. Some have said that Ayton will decide this fall — the early signing period runs from Nov. 9-16 — and Wildeboor said he's not expecting an early decision.
Either way, Wildeboor feels strongly about KU's solid position with the Bahamas big man.
"I'm not saying that DeAndre Ayton to Kansas is a done deal," he wrote. "(But) I believe that saying no to Kansas will be difficult for Ayton."
Chaundee Brown sets visits
Four-star Class of 2017 shooting guard Chaundee Brown, 6-5, 190 from Orlando, recently told Shay Wildeboor of JayhawkSlant.com that he will visit the KU campus the weekend of Sept. 2. Brown, ranked No. 64 in the class according to Rivals.com, is the third member of the 2017 class to announce an official visit with Kansas, joining four-star commitment Marcus Garrett (Sept. 30) and five-star point guard Troy Brown (Sept. 30).
KU also is expected to receive visits from several others on the Rivals150 list, including DeAndre Ayton (C, No. 1), Trevon Duval (PG, No. 5), Collin Sexton (PG, No. 12), Trae Young (PG, No. 14), Quade Green (PG, No. 25), Tremont Waters (PG, No. 39), Deng Gak (PF, No. 78), Jericho Sims (PF, No. 146) and others.
Gordon trims to 11
Late Thursday, Kansas learned it made the cut for Carte'Are Gordon, a 6-8, 240-pound four-star power forward in the Class of 2018 who recently announced on Twitter that he had trimmed his list of finalists to 11.
The four-star prospect from Webster Groves, Mo., outside of St. Louis, posted to Twitter a photo of himself surrounded by the logos of the 11 finalists. Joining KU on the list were, in no particular order: Notre Dame, Missouri, Texas, Illinois, Oklahoma State, SMU, St. John's, St. Louis, Kentucky and USC.