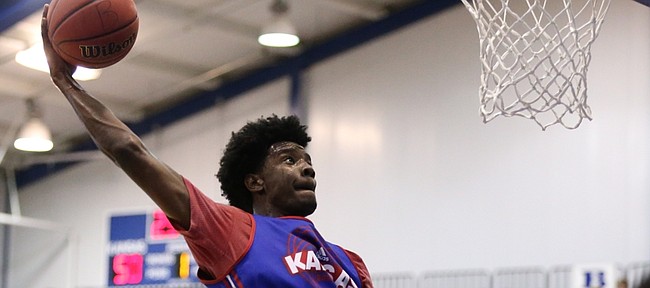 Kansas men's basketball coach Bill Self on Saturday night joined KU counterparts David Beaty and Ray Bechard in front of a throng of KU students at Memorial Stadium.
The trio was there as a part of KU's annual Traditions Night, where new students learn about everything from the Rock Chalk Chant and clapping to the school fight song to the history of Kansas athletics and the names of some of KU's all-time greats.
On Saturday, though, the students learned a little more than they may have expected. During a series of rapid-fire questions asked to all three coaches that covered everything from favorite comfort food and favorite television show, the coaches were asked to name the greatest athlete of all-time.
Bechard went first, and after rattling off a few former KU greats, settled on boxing legend Muhammad Ali. Beaty was up next and did not hesitate to say Michael Jordan. That left Self to finish the question and boy did he.
After pausing to think, Self finally fired off his answer.
"I gotta be different," he joked, cocking his head back for emphasis. "I'll say Josh Jackson."
Jackson, of course, is KU's latest freshman phenom, and although Self's ear-to-ear grin seemed to indicate that the answer was purely for show, there's no doubt that the 6-foot-8 forward who already is projected to be a Top 5 pick in next year's NBA Draft will soon be a fan favorite, even if he falls short of landing on anyone's all-time favorite list.
While several Jayhawks already are back on campus in preparation for Monday's first day of the fall semester — including Devonte' Graham, Svi Mykhailiuk and Lagerald Vick, who all attended Saturday's KU volleyball scrimmage — Self said he expected the entire roster to be in Lawrence by about 4 p.m. Sunday.

Fireballin' Frank
Sunday is KU Day at The K and Self and several assistant coaches and players will make the trip to Kauffman Stadium to watch the Royals take on the Minnesota Twins.
Senior point guard Frank Mason III is scheduled to throw out the first pitch and Self said he had no idea how that would go but shared an idea of what he'd like to see.
"I don't know if Frank's ever thrown a baseball," Self said. "I don't think he's ever played before, so I kind of hope he throws it against the backstop. I think that would be pretty funny."
Late Night notes
Self also encouraged everyone in attendance at Traditions Night to show up for Late Night in the Phog on Oct. 1.
"We could fill up Allen Fieldhouse with this crowd," Self said.
If that were to happen, two attendees could wind up cashing in. Self said after addressing the crowd that for the second year in a row one female and one male fan will have the opportunity to win $10,000 by making a half-court shot during the Late Night festivities. A year ago, director of operations Brennan Bechard drained a half-court shot to win the money for one lucky fan. Self wrote the young man a check on the spot and both the fan and the Jayhawks went wild.
"I'm gonna talk to Bechard before he shoots it (this year)," Self joked. "That was fun."
In addition to the return of the shoot for the cash promotion, Self revealed that KU would host a three-on-three tournament the day of Late Night. Proceeds from the event will go to Coaches vs. Cancer. Teams can register online at kuahthletics.com/3on3 and the $25 fee per team includes entry, a T-Shirt and a reserved seat at Late Night for each team member.
Svi ready to roll
After spending a good chunk of the summer playing with the Ukrainian team at the Under 20 European Championships in Finland, KU junior Sviatoslav Mykhailiuk is back in the states and eager to get his third season as a Jayhawk under way.
"I'm excited to get him back," Self said of Svi. "He looks good. He may have got a little heavy last year, but he's slimmed up a little bit and he told me (Friday) this is the most explosive he's felt in a long time."
Self said the experience of playing competitive ball all summer could help the junior guard in his quest to take the next step for the Jayhawks. Svi led his country with a 14.9-point average in seven games and also averaged 5.6 rebounds, 2.7 assists, 2.1 steals and 4.7 turnovers.
"Svi had a good summer," Self said. "But he didn't shoot it well, like he's capable of shooting."