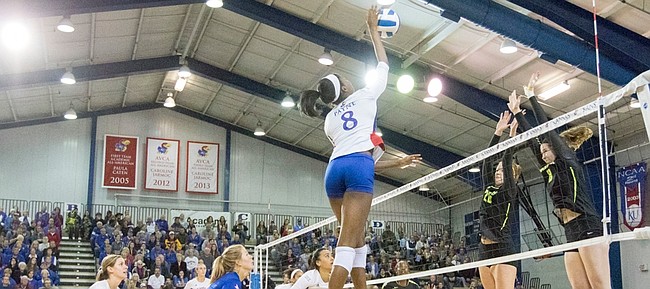 Texas is ranked No. 2 in the nation in women's volleyball, Kansas No. 5.
Two of KU's three losses during a 30-3, 2015 season came to Texas, the national runner-up, the third loss to Nebraska, the national champion.
Both Texas and Kansas are coming off of Final Four appearances and interest in KU's volleyball team has outgrown the 1,300-capacity Horejsi Center.
Now, close your eyes and picture 16,300 packing Allen Fieldhouse to cheer for the Jayhawks and boo the Longhorns.
Athletic department bean counters would love that, but they would not be the only ones with that sentiment.
"Texas would love to play us at Allen Fieldhouse," Kansas head coach Ray Bechard said. "They would love that, even if there were 15, 16 thousand because they would say, 'This is new to us and it's new to them, even though there are more fans cheering for Kansas.'"
Drawing such a crowd would count as another big moment for volleyball in the middle of the country. Remember, every Final Four contestant, including Minnesota, came from the Central time zone.
"Yes, one of our secondary goals is growing the sport in the region, but obviously one of our primary goals is giving our team the best chance to be competitive at the national level," Bechard said.
Losing a match at Allen that might have been won at Horejsi would be detrimental to KU's national ranking, which stands at No. 5, here in the preseason.
At some point, though, playing a big match in the fieldhouse does have a certain appeal to it.
"I would love to play in Allen just to see how much we could fill it up and just to be playing on that floor would be awesome," All-American junior setter Ainise Havili said. "But I love this gym. It's really intimate. It gets really loud, throws a lot of people off. And it's just what we're used to. There are pros and cons to both."
Madison Rigdon, who hit the winning shot against USC, called the fans who pack Horejsi "incredible, so nice."
"It wouldn't be the same as in here," Rigdon said. "The energy people bring in this gym is so incredible and unique. It would be awesome to play in Allen, but I think playing here was best for us because it was so loud. We're used to the people here. We're used to the lights. We're used to the noise. I think Allen would be a whole different experience. It would be good either way, but here it feels like home."
Senior Tayler Soucie, a first-team All-Big 12 selection last season, played in the fieldhouse in the NCAA tournament as a freshman.
"It's not going to get as loud as it does in here," Soucie said. "You're not going to hear the band as loud in there like you would here. The fans aren't going to be as close. The closeness and the intimacy that you feel in here, you probably would not feel in Allen Fieldhouse."
Not everyone who wanted to purchase a season ticket was able to and every seat for every match is sold out. Talk about a tough ticket.
Jim Marchiony, the athletic department supervisor for volleyball, said "very preliminary discussions," have taken place about the feasibility of expanding Horejsi, but he also pointed out that the minimum capacity to become eligible to serve as host school for an NCAA Regional is 3,000.
"So it doesn't really make sense to go from 1,300 to 2,000," Marchiony said. "I think if we do something, we need to do something that will allow us to host a regional."
It would require a new building and if you're going to build one that seats 3,000, why not kick it all the way to 4,500? Make it the home court for both volleyball and a women's basketball team that now plays in front of crowds so small that they give Allen Fieldhouse a cavernous feel.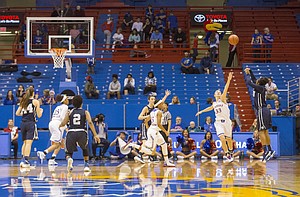 Upon hearing my suggestion, Marchiony's face took on a look that suggested he just had chugged a quarter of used motor oil.
"I don't know if you ask the women not to play in Allen Fieldhouse," Marchiony said.
A more intimate building would make for a better environment.
"When we get good we're going to draw more than 4,500," he said.
Marchiony came to Kansas from UConn, a women's basketball powerhouse that averaged 12,859 for its games in 2002-03, Marchiony's last year at the school. The Huskies drew an average of 8,920 fans last season.
He said he's not basing his optimism about future women's hoops crowds on UConn's success, rather on an Allen Fieldhouse crowd of 5,634 that watched Kansas upset No. 23 Texas, 70-61, on Jan. 3, 2006, to improve its record to 12-0.
Still, the fieldhouse was only slightly more than one-third full, not as appealing as a 4,500-building with no empty seats.
If the women's team does develop into a winner and generates a buzz, Allen Fieldhouse could always remain an option for big games.
At the moment, there are no plans finding a bigger home for volleyball/smaller home for women's hoops, but I do like the idea.