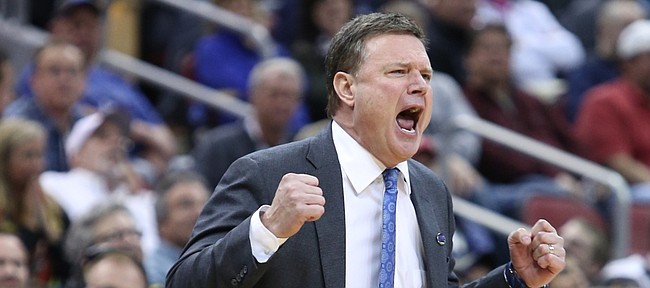 Asked recently about what drives him after winning a national title in 2008 and 12 consecutive Big 12 regular season titles heading into the 2016-17 season, Kansas coach Bill Self didn't bat an eye.
"There's a ton left to play for," Self said during a recent appearance on KLWN's Rock Chalk Sports Talk. "I've always felt this way. When you are successful or teams are successful, the tendency is you can relax. But in our situation, certainly the more you get, the more you want."
That blanket statement can cover just about every aspect of Kansas basketball entering Self's 14th season in charge of the program.
Win 12 straight Big 12 titles from 2005-2016, go get No. 13 this season. Add the nation's top-rated recruit in both the 2013 and 2016 recruiting classes, go add the next one in 2017.
For what it's worth, given its long-standing relationship with him, KU appears to be in good shape in its pursuit of 7-foot center DeAndre Ayton, ranked by Rivals.com as the top player in the 2017 class.
Regardless of whether you emphasize recruiting, winning or the facilities arms race, KU continues to be ahead of the game in all three realms and actually may be improving in all of them.
"We're excited where we're at," Self said. "We think our facilities are the best that they've ever been. They've basically become second to no one. And we have a chance to recruit to that now. We haven't up until this point, so I'm really excited about us hopefully even drawing as good of or a better athlete to help us realize that dream of trying to cut down nets again."
The Jayhawks are expected to enter the upcoming season ranked in the Top 5 in the preseason polls. With a good mix of returning talent, fresh faces and veteran leaders, reaching that goal certainly figures to be a possibility once again.
"We wanted that national championship very badly in '08," Self recalled. "But all that did was make us want another one even more. I hope we're in the position to play for the highest stakes again, and I hope it's sooner rather than later."
Henry comeback
Former Jayhawk Xavier Henry, the No. 12 pick in the 2010 NBA Draft who has suffered a number of significant injuries during his short NBA career, was back at it this week, attempting a comeback.
Working at a free agent minicamp in Los Angeles, Henry, 25, talked about his down-and-out journey — an ACL tear, a ruptured Achilles tendon, an injured wrist — that brought him onto the court at the Los Angeles Lakers practice facility looking for another chance.
"It was unbelievably tough," Henry told NBA.com's Joey Ramirez. "For two years. It's depressing. You go through so many emotions. So many: 'Do I quit? Is it over?'"
Henry answered that question during the past year, first by earning a training camp invite from the Golden State Warriors and then by rehabbing with the Warriors D-League affiliate. Now, he's looking for more, and Lakers GM Mitch Kupchak believes the former Laker, who averaged 10 points a game in 43 contests in L.A. in 2013-14, can get there.
"We know the kid and we know what kind of heart he has," Kupchak told NBA.com. "He's still young enough to make a run at the NBA, so we wish him the best."
As for Henry, he's just happy for the opportunity.
"I'm feeling blessed that I can even play basketball again," he said. "I'm back to where I need to be. I'm just trying to show everybody else that I'm back."
KU calls on Dort
According to college recruiting blogger Zach Smart, it's Florida that is the clear front runner for four-star Class of 2018 guard Luguentz Dort.
But the Jayhawks are making a run.
Dort's prep coach, Shaun Wiseman, recently told Smart that the Kansas basketball coaching staff has stepped up its interest in the shooting guard from Arlington, Florida.
At 6-foot-4, 190 pounds, Dort's game is all about power. Wiseman calls him "bullish" and added that the development of his jump shot this summer should go a long way toward making him a complete player capable of competing at college basketball's highest level.
"He's so strong," Wiseman told Smart. "He gets to the rim whenever he wants. He gets to the free throw line. He's just able to manufacture points."
As of today, Oklahoma, Baylor, Louisville and Oregon appear to be the stiffest competition for the Gators and Jayhawks in pursuit of Dort.
"Every day or two it seems like somebody else is saying, 'Hey, this the type of kid we want to recruit. This is the caliber of kid we want offer,'" Wiseman said.
More like this story on KUsports.com