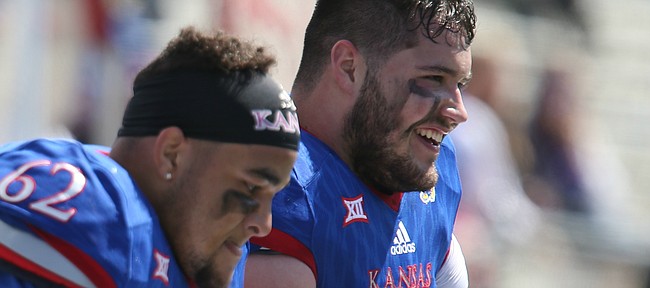 Even though Kansas football coach David Beaty has yet to name the team's starting quarterback, the further along the Jayhawks get into preseason camp, the more clarity exists on the depth chart.
While KU's season opener against Rhode Island is still a couple weeks away, offensive line coach Zach Yenser expects to know as early as this weekend which five Jayhawks he'll ask to protect sophomore Ryan Willis or red-shirt junior Montell Cozart at quarterback.
By the time Kansas completes Saturday's practice at Memorial Stadium for Fan Appreciation Day (gates open at 9:30 a.m.), the Jayhawks will have 18 August sessions behind them. Yenser said the linemen have reached a point in camp where "you can either do it or you can't."
Earlier this week, Yenser revealed senior left tackle D'Andre Banks, freshman right tackle Hakeem Adeniji and junior left guard Jayson Rhodes received the top grades from KU's most recent evaluation-focused scrimmage.
At center, the O-line coach described the play of junior Joe Gibson and red-shirt freshman Mesa Ribordy as an ongoing battle.
That leaves right guard, where Yenser said Ribordy and sophomores Jacob Bragg and Larry Hughes all have taken reps.
From a depth standpoint, the Jayhawks also have senior Jordan Shelley-Smith, who started nine games at left tackle last season, and sophomore Clyde McCauley III, who started the other three at left tackle.
During the preseason, Yenser has enjoyed watching seven or eight different players fight for the top five spots.
"That's the best thing that can happen for that group," the O-line coach said. "Nobody can get complacent in that room. I don't care if you played last year or not. I don't care if you started 12 games, eight, six, whatever. You can't get complacent in that room. And that's what you're trying to build — that culture in there."
While KU will have to wait a year for Alabama transfer junior Charles Baldwin to be eligible, other linemen in the mix for consideration on Yenser's two-deep include red-shirt freshman Hunter Saulsbury and true freshmen Malik Clark, Cam Durley, Hunter Harris, Antione Frazier and Chris Hughes.
While Yenser's focus has been on determining a starting five for the opener — barring injuries — he also wants a swing lineman who can serve as a backup at either tackle spot and a backup center capable of playing inside.
Special teams update
Beaty has made no secret about his desire for special teams to become a strength for Kansas. The head coach almost becomes giddy when mentioning the impact made by one of the staff's new assistants, special teams coordinator Joe DeForest. According to Beaty, senior kicker Matt Wyman and the other specialists, too, often speak highly of DeForest and how he has helped them improve.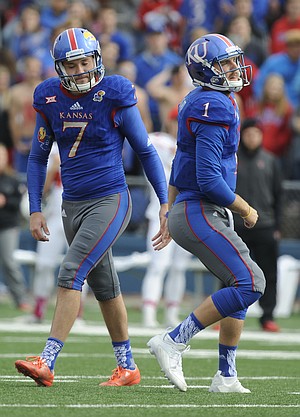 Wyman, the coach said earlier this week, has proven to be KU's best camp option for field goals and extra points. Beaty praised Wyman, who made two of his four field-goal tries a year ago (both from 40-plus yards), for his preseason consistency from short and long range, as well as tight and wide angles. Credit for that variety, he added, goes to DeForest.
"The thing I love about Coach DeForest is there is zero — zero — situations that he is not prepared for," Beaty said. "He has been really, really good for us. I just get out of his way."
On kickoffs, Beaty said both Wyman and junior kicker Gabriel Rui have been "really good." Plus, the coach felt positive about both freshman Kyle Thompson and junior Cole Moos as punters.
At long snapper, he added, both freshman Logan Klusman and senior John Wirtel have shown the consistency he expects out of that position.
Beaty also noted a standout return by junior running back Deron Thompson (a transfer from Colorado State), mainly because the 5-foot-9 Wichita native did so running behind a scout team of blockers.
"That dude made a nice kickoff return with very little organization in front of him," Beaty said of Thompson. "He made a bunch of guys miss and he's fast."