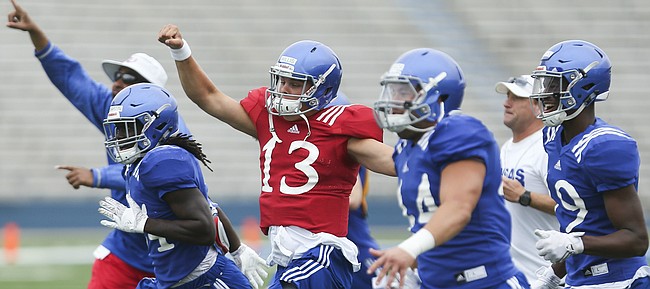 One play into the Kansas football team's 12th preseason practice, junior tight end Ben Johnson became the offense's Monday morning hero at Memorial Stadium.
On the first play called by head coach David Beaty, red-shirt quarterback Carter Stanley dropped back to pass, and spotted Johnson working his way through the secondary at the back of the south end zone. When Johnson, a 6-foot-5 junior from Basehor, hauled in the throw and kept his feet in bounds for a touchdown, every KU offensive player sprinted after him to celebrate.
You see, just before the tight end opened the session with a bang, Beaty dictated the opening series would determine how the practice would end. If the offense scored or the defense got a stop, the losing side would have to carry the winners off the field to cap the morning.
"That was kind of my motivation," Johnson said, laughing. "I didn't want to be dead tired at the end of practice and then have to carry a big, old D-lineman off the field."
This summer, Johnson, whom Beaty again referred to as his camp MVP to this point, fine-tuned his footwork in tight spaces in order to better make cuts capable of throwing defenders off his trail on various routes. His feet, eyes and hands all looked in mid-season form as he came down with a difficult catch, in traffic.
"I was in. One hundred percent," Johnson said of the challenging TD reception. "I just thought — I think it was Tevin (Shaw, senior safety) — I thought it was gonna hit him in the helmet."
It didn't. And KU junior defensive end Kellen Ash had to carry Johnson off the field a couple hours later.
Freshman Adeniji impresses on O-line
Beaty knows what you're thinking. But, no, he wasn't bringing up the play of freshman offensive lineman Hakeem Adeniji Monday after practice just because they both graduated from Garland High, in the KU coach's home state of Texas.
Photo Gallery
KU football practice 8/15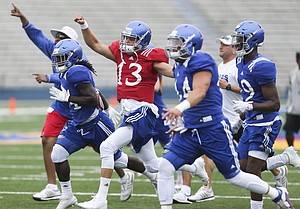 View a gallery of images from the Jayhawks' practice on Monday, August 8.
"He's playing just about every position except for center right now," Beaty said of the 6-foot-4 newcomer, "which is incredible for a freshman."
Of late, Adeniji has even played with KU's first string at practices.
"I don't think I've ever seen a young guy that has as good a technique as he has at his age," Beaty marveled. "And he's not the biggest dude yet, but he's getting there. You look at him you might think he's a 300-pounder but he only weights about 268, 270 pounds. He's really not that big, but he is strong."
O-line depth
KU offensive line coach Zach Yenser predicts he'll have a pretty good idea of his starting five by the end of this week. As of now, Adeniji has played a lot of right tackle, alongside sophomore right guard Jacob Bragg. Junior Joe Gibson looks like KU's starting center, while senior left tackle D'Andre Banks and junior left guard Jayson Rhodes, like Adeniji, graded out the best in KU's big evaluation scrimmage over the weekend.
Yenser said freshman lineman Mesa Ribordy is competing as a backup at both right guard and center.
Kansas also has experienced starters vying for playing time on the offensive line, with senior Jordan Shelley-Smith and sophomores Larry Hughes and Clyde McCauley III.
Said Beaty: "We are toying with a lot of different things interiorly, just to make sure we get the best five on the field. And not just pigeonholing ourselves because, hey, he's a tackle."
Fan-friendly dates coming up
Kansas football's annual Fan Appreciation Day is slated for 10 a.m. Saturday at Memorial Stadium, where the Jayhawks will have their 18th August practice. Following the session, expected to last approximately two hours, players will sign autographs from roughly noon to 1 p.m.
The following Friday, Aug. 26, Beaty and KU athletic director Sheahon Zenger will travel to Prairie Village's Corinth Square for an appearance at a season kickoff pep rally, slated to start at 6 p.m.