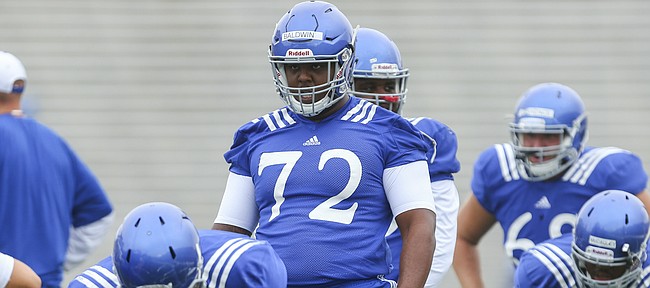 The number of Jayhawks practicing at Kansas football preseason camp only grew by one Monday morning at Memorial Stadium, but given the size of new offensive lineman Charles Baldwin, the roster felt significantly altered for the better.
"He's going through his acclimation period right now," KU coach David Beaty said shortly after Baldwin's first practice with the team. "Man, I'm glad to have him here. What a great kid."
Listed at 6-foot-5 and 305 pounds, the five-star offensive tackle was ranked by Rivals as the No. 2 overall junior college player in the Class of 2016 and committed last year to play at storied Alabama. However, Nick Saban dismissed Baldwin for an unspecified "violation of team rules" in May, after Baldwin participated in the Crimson Tide's spring activities.
Beaty said KU's staff did its research on Baldwin, a Windsor, Conn. native, the same as the coaches would for any player before inviting him to join the team. Offensive line coach Zach Yenser, who helped with that vetting, labeled Baldwin a "good dude" with immense upside.
"I promised my guys when I got here — I promised my offensive linemen — I wasn't going to bring in bad guys," Yenser said. "I don't give a crap how good you are. I don't want to be around jerks. So I'm not going to bring one in. Charles fits our room great … I'm going to recruit high-character kids that are tough as football players."
Like the other Alabama transfer on the roster, sophomore receiver Daylon Charlot, Baldwin will sit out this season, per NCAA transfer guidelines. Still, Beaty expects to find ways to make sure both have an impact at practices.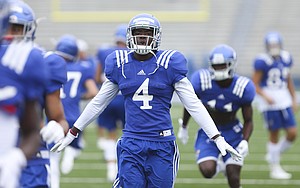 "Obviously, we'll use those guys in a number of different ways to prepare our offense and defense, because they can't play this year," the coach said, adding the staff also aims to engage Baldwin and Charlot, "both talented guys," in the weeks and months ahead, in order to properly prepare them for KU's 2017 season.
Admittedly, Beaty fell in love with Baldwin's size and what it could mean for the offense in the future. Referencing Baldwin's recruiting ranking, Beaty said his mom could take one look at the burly lineman and immediately understand he was a highly sought after recruit.
"He's a good-looking dude if you haven't seen him yet," Beaty said. "… But, man, I've been fooled by great looking before. I want to see what he can do. He's got a great skill set."
The Jayhawks will have to wait another year to find out just what the additions of Baldwin and Charlot (a 6-foot, four-star receiver whom Rivals ranked 78th nationally in the Class of 2015) mean for the team. Still, as of this moment, sophomore quarterback Ryan Willis said their presence alone has him and teammates fired up.
Photo Gallery
KU football practice 8/15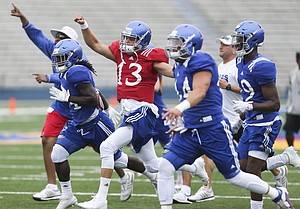 View a gallery of images from the Jayhawks' practice on Monday, August 8.
"It just gives everyone hope that the program's going the right way," Willis explained. "The future's really bright. We've got a lot of young guys who are going to be big contributors, so the future's bright for our team."
Willis already has worked enough with Charlot to appreciate what the talented receiver could potentially add to the offense.
"He's a great athlete. He's very good in his routes, can get off the ball, doesn't get pressed much," the sophomore quarterback shared. "When you can create separation that makes it a lot easier on the quarterback. We really like that."
Though Baldwin never played in a game at Alabama and Charlot, as a true freshman, only appeared in five contests for the defending national champions, Beaty is glad to have both on board, because they have experienced the ins and outs of an elite program and learned first-hand what it takes to compete at that level.
"They know what it's like," Beaty said, "and I urge those guys to speak up and make sure they talk to our guys about perspective, about what winning looks like."