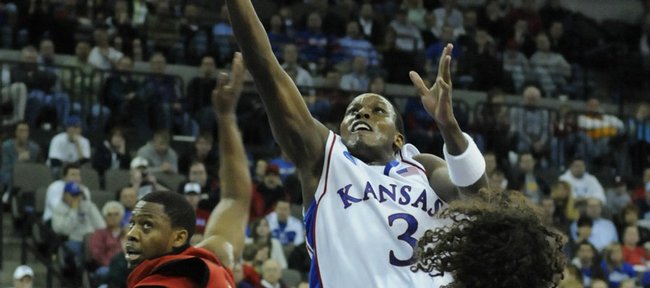 Former Kansas point guard Russell Robinson was back in town last week for his annual pilgrimage to the place he calls his second home.
"I come back every year," he said. "As soon as I hit the States, I go see my family in New York and then I come to Lawrence. I love getting back to work out, to see the guys, to see coach and to just enjoy Lawrence."
Like most college ballplayers, Robinson entertained dreams of playing in the NBA throughout his college career. But the starting point guard on KU's 2008 national title team said KU coach Bill Self always did a great job of keeping his players in the moment and did not allow the distraction of what comes next to interfere with the goals at Kansas.
For three summers following his KU career, Robinson played with various NBA summer league teams, hoping to catch on. It never happened and, after each stint, he hopped a plane and headed to Europe.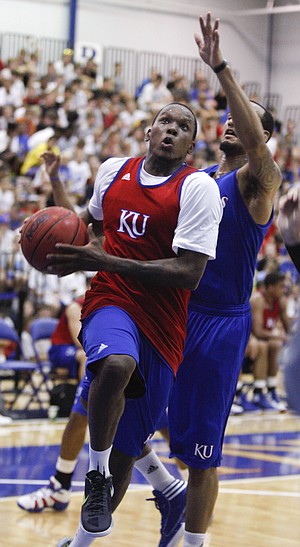 A handful of former Jayhawks have enjoyed great success playing in foreign countries following their Kansas careers, and Robinson said he would recommend it to anyone. At the same time, he said that players in the position of recent Jayhawks Perry Ellis, Wayne Selden and Brannen Greene, all of whom went undrafted and are trying to find a way to catch on in the NBA, should keep both options open.
"Those guys are still young, they're fresh out and they're full of talent and potential," Robinson said. "So it's still wide open for them. They're still in position to chase their dreams and I would just tell 'em to continue to chase it. They're right there."
All three received interest from NBA franchises this summer, with Greene and Selden connecting with the Memphis Grizzlies and Ellis getting a shot with the Dallas Mavericks. While each still could earn a spot on an NBA roster through a strong training camp, Robinson said the decision of when to go for it and how long to give it a shot would come down to each player deciding what's best for his career.

"The NBA is the goal," he said. "And you just try to find your path there and you just have to weigh your options. My first couple years in Europe, my goal was to make some money and try to come back and get to the NBA... The closer I got to it, the more I was able to see Europe was probably the best move for me, career-wise."
While those who experience long careers in Europe typically move past the idea of one day getting back to the NBA, Robinson said the goal of making it in America remains in the backs of the minds of many players working overseas.
"You stay motivated," he said. "You love the game and I would do it for free if I had to. It's about opportunity, and you never know what stories are coming. At one point, the Knicks had a 36-year-old European rookie.... There are scouts everywhere and the NBA's watching."
Set to begin his ninth season playing professionally overseas, Robinson has enjoyed the opportunity to make a living doing what he loves while seeing the world at the same time. He started last season playing in Greece and finished in Poland, where he will start the upcoming season with the same franchise he ended with a year ago.
Robinson said his commitments overseas have kept him away from the United States for 10 months of each year and he has had to change his mindset in order to enjoy a lengthy pro career. Basketball is basketball, Robinson said, but the true adjustment comes off the court.
"The difference is living away from home, different food, different culture, those are the things you have to get used to," he said. "The different rules and stuff, you pick that up pretty quick."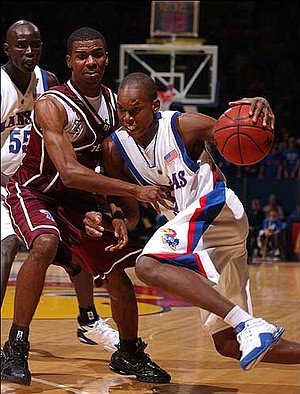 Although Robinson has continued to make trips to Lawrence a regular part of his life, there is one thing that many locals have experienced that he has not.
"I've never been to a game at Allen Fieldhouse," Robinson said.
Sure, he's played in plenty of them and he said he remembers the feeling of running out of the tunnel "like it was yesterday." But he never has sat in the stands and watched his Jayhawks play. His recruiting visit came during football season and his pro career has kept him away from Lawrence every winter since he graduated. But that's going to change this winter.
"I'm putting it in my contract to make it happen and I will go to a game at Allen Fieldhouse," Robinson said. "I don't know which one, yet. I'll have to look at the schedule and see what works. But I am going to get back there this year to experience that.
"Right now, I'm happy and healthy and I'm gonna keep playing as long as my body allows me. Just try to live in the moment, keep it year to year and see where the journey goes."
More like this story on KUsports.com