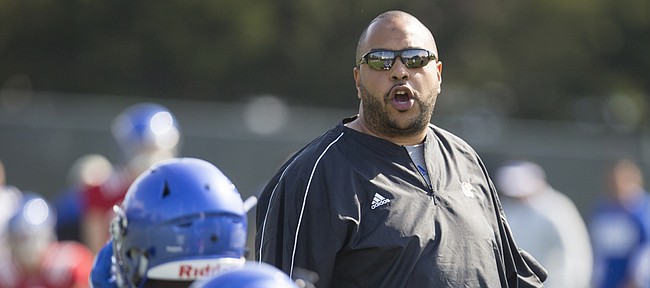 Kansas running backs coach Tony Hull knows that he has a challenge ahead of him as he begins his first season of working at the collegiate level, but it is not a situation that the mild-mannered Louisiana native is nervous about.
Hull calmly addressed reporters at KU football's recent media day in the Anderson Family Football Complex and assured that his first five months on David Beaty's staff have gone smoothly, as he has learned the ins and outs of Big 12 football, while also helping the program make huge recruiting strides in his home state.
"It's been great, man. Coach Beaty has done a great job," Hull said. "The individuals on staff have done a great job of welcoming me and taking care of me. It's been phenomenal."
The Louisiana native comes to Kansas after spending the last nine years as the head coach and offensive coordinator at Warren Easton High, which is located in his hometown of New Orleans. While Hull said that the learning curve of being an NCAA Division I assistant has been made easier thanks to Beaty and his staff, it is not the most difficult coaching transition that he has made.
Hull's first season at Warren Easton in 2007 also marked the return of football for the Eagles after the school recovered from the aftermath of Hurricane Katrina. It didn't take long for the Eagles to find success under Hull, as they reached the postseason in seven of his nine seasons, reeahing the state championship game in 2014.
"The Louisiana high school scene is very interesting. It's a rich football tradition area," Hull said. "The competition level is extremely high. With that being said, you have to know what you're doing coaching wise in order to be able to compete. I think being from Louisiana, being in that competitive coaching environment allowed me to be where I'm at now."
Hull is fully focused on helping the development of KU's running backs, but he still plans on keeping close tabs on his old stomping grounds. Hull doesn't like the idea of Louisiana being labeled as a hot bed for SEC football players, and he wants to do everything in his power to bring more players from his home state to Kansas.
"I want to voyage to make it Big 12 territory from now on," Hull said. "I don't want Louisiana always being known as SEC country. There are a lot of great Big 12 players down there that can be found, and we will find them and get them up here."
Beaty has seen Louisiana's Division I talent first-hand. Hull got freshman quarterback Tyriek Starks, his former pupil, to KU. The 6-1, 180-pound dual-threat QB threw for 4,000-plus yards and 40 touchdowns in his senior season under Hull at Warren Easton, leading the team to the state semifinals.
Even more impressive, Hull's reputation in Louisiana also allowed Kansas to nab four-star freshman corner Mike Lee, who already is turning heads during preseason practices. Plus, Hull helped KU land the following commitments for its 2017 recruiting class: Troy James (three-star defensive end, according to Rivals), Takulve Williams (two-star receiver), Travis Jordan (three-star athlete).
While Starks and Hull will have a different player-coach relationship at Kansas with Hull not working directly with the Warren Easton alumnus, the KU running backs have shared rave reviews of their new position coach.
"He stresses ball security, which is a good thing because that's our main focus is to hold on to the ball as a running back," senior Ke'aun Kinner said.
Likewise, the new running backs coach has liked what he's seen from Kinner, the team's leading rusher from 2015.
"He's done a great job of changing his body over the summer. I never really got a chance to work with him in the spring, though, because he was hurt," Hull said. "However, I see why everyone is so excited about him. Not only does he work hard, but he leads by example."
While Kinner far and away has the most experience of anyone in the Kansas backfield, Hull has been impressed with young talent at the position as well. The KU staff has big expectations for the likes of freshman Khalil Herbert, junior Arkansas transfer Denzell Evans and sophomores Taylor Martin and Ryan Schadler, to compete with Kinner for playing time.
During Friday's media session, Beaty said Kinner has stood out through just more than a week of preseason practices and revealed Martin looks much more effective than he did in the spring.
"Coach Beaty has made an emphasis on making this position an open competition, and those guys are definitely putting their name in the hat by the way they have competed…," Hull said. "It's interesting to see how it's going to play out."