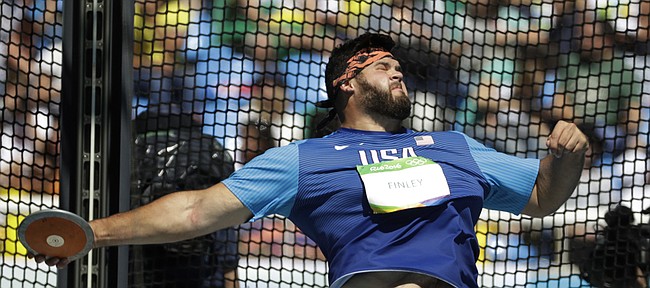 Rio de Janeiro — A pair of former Kansas track and field athletes went up against the world's greatest Saturday at the Olympic Games. Mason Finley placed 11th in the finals of the men's discus, and Andrea Geubelle was 21st in the qualifying rounds of the women's triple jump.
Finley, a KU thrower from 2010-12, advanced to Saturday's final by placing sixth in the qualifying flights Friday. In the final, he opened his morning inside Olympic Stadium with a throw of 60.43 meters (198-3). After heaving the discus into the netting of the cage for a foul on his second attempt, Finley tallied a third mark of 62.05 meters (203-7). His final throw was good enough to move him up one spot to 11th. Finley's finish marked the best by an American in the Olympic discus since 2004.
Geubelle was a three-time NCAA champion for the Jayhawks from 2010-13. On her first attempt, Geubelle went 13.67 meters (44-10). She committed a foul on her second attempt, then went 13.93 meters (45-8) on her third attempt.
Geubelle was unable to finish among the top 12 that will advance to the triple jump final.
One more Jayhawk still is awaiting his time to take the Olympic Stadium track. Former KU athlete Kyle Clemons is slated to compete on the United States 4x400-meter relay team. The first round of the 4x400-meter relay will be at 7:10 p.m. Friday.
More like this story on KUsports.com