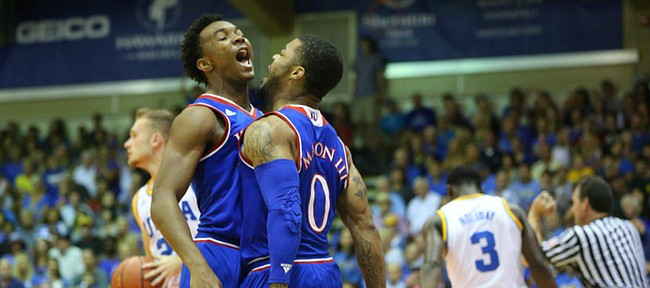 In late July, Jayhawks Devonté Graham, Frank Mason and Carlton Bragg teamed together at the adidas Nations showcase in Southern California, where some of the best college and high school players in the country competed in various scrimmages.
Earlier this week, DraftExpress.com, which tracks and predicts the top prospects on the NBA radar, released their Top 10 college players from the event and both Graham and Mason landed on the list.
Graham, who came in at No. 4 on the list, impressed scouts and analysts so much that DraftExpress bumped him from the second round into the first on their 2017 NBA mock draft.
Website president Jonathan Givony caught up with Graham at the event and Graham explained exactly what areas of his game he had been working on this summer.
"I really didn't know what to expect," Graham said of the adidas Nations showcase. "I haven't really been to a camp like this before. I was a little nervous at first, but once I got here I was just real comfortable, being aggressive, playing my game."
The list was compiled by Julian Applebome, who was director of basketball operations of the NBA Development League's Reno Bighorns last season. Applebome pegged Graham as a player with definite NBA potential.
"He has quite a bit of professional upside given his ability to influence the game in various ways, as a defender, as a shooter, and as a creator," Applebome wrote. "It wouldn't be surprising if Graham is able to take the next step as a prospect this season at Kansas, as many teams are looking for athletic guards in his mold who can hold their own on both ends of the floor."
As for what specific skills Graham had been targeting, the junior guard from Raleigh, North Carolina, pointed more to mindset than fundamentals.
"Just being even more aggressive," he told Givony. "I've been working on my jump shot a lot, being in the gym, constantly trying to get stronger and finishing around the basket."
Mason finished sixth on Applebome's list and his recent showing at adidas Nations certainly did not hurt his standing with NBA scouts.
"Mason won some scouts over in L.A. and is certain to get some long looks from NBA teams when his (Kansas) career is up," Applebome wrote. "He is a tough, strong competitor who has been a major piece for Bill Self and a very successful, winning program over the last two seasons, and will absolutely have a long professional career wherever he ends up."
Charity champs
Former Jayhawks Marcus and Markieff Morris and Tyshawn Taylor recently joined forces in Philadelphia to bring home the Danny Rumph Classic tournament title.
Playing for Team F.O.E., the twins and Taylor solicited help from NBA All-Star James Harden for the championship game, giving Team F.O.E. the title for the second year in a row.
"Philly's got a lot of love for him," Marcus Morris said of Harden in a post-tournament interview with AXG. "So I told him, just come out, show your face, we're hoopin', that's what we do anyway. Not too many people will come to Philly, so the respect level was high for him and we had a great turnout."
Taylor inks in Israel
Speaking of Taylor, earlier this week the lead guard on KU's 2012 national runner-up squad signed a professional contract with Israeli professional club Maccabi Kiryat Gat.
After initially getting a shot in the NBA with the Brooklyn Nets, Taylor, 26, averaged 19.4 points per game playing in Venezuela last season.
More like this story on KUsports.com