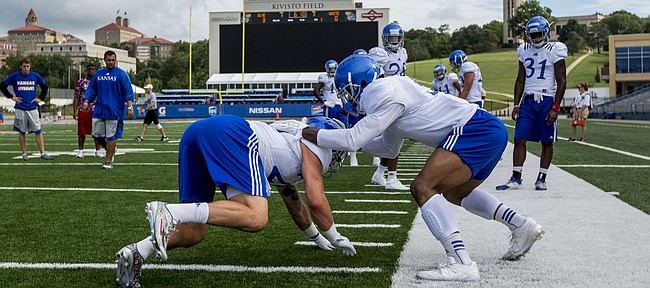 In year number two of his rebuilding project with the Kansas football program, head coach David Beaty recognizes the need for a vastly improved defense.
The Jayhawks surrendered 560.8 yards and 46.1 points during Beaty's first season, leaving him and his staff with no shortage of quandaries to overcome.
Now just more than a week into preseason camp, with Friday marking KU's 10th practice, Beaty says defensive coordinator Clint Bowen and his troops have shown progress in key areas.
For example, behind the leadership of senior safety Fish Smithson and senior linebacker Marcquis Roberts, the head coach said his defense has better recognized the value of winning third-down situations — "We have to become better in that money down," Beaty said.
On the subject of getting the other team's offense off the field, the coach also identified turnovers as a camp emphasis. The staff pits the offense against the defense in a takeaway competition every day, taking a point away from the offense every time the defense comes away with the football. The players have put pride into those battles, in part because the losing side has to run sprints afterward.
"They've created some," Beaty said of turnovers, "but they also have done exactly what we've asked them to do in regard to being aware of opportunities."
While defensive coaches have preached swarming to the football and competing for passes in the air, they haven't overlooked the very basic notion of tackling in the open field. As one would expect, Beaty and his staff acknowledge KU's 0-12 2015 season featured opponents extending possessions with ease.
"Last year I just remember (opposing skill players) being able to make guys miss on that side, and these guys have become better sure tacklers in the open field," Beaty said, while offering a long list of the preseason's defensive standouts thus far, including Roberts, Smithson, sophomore defensive tackle Daniel Wise and junior linebacker Joe Dineen. "We hope that carries over for us when we get to the big field on game days."
Beaty, always quick to praise his players for their efforts, also made a point to express his approval for the practice efforts of some true freshmen on defense: cornerbacks Mike Lee and Kyle Mayberry, defensive back Bryce Torneden (whom Beaty revealed will not red shirt, but instead see the field in his first year) and defensive end Isaiah Bean.
It's the arrival of such players that has quickly improved KU's depth from a season ago. Beaty said the defense now experiences "very little drop off" when second-unit players sub in, adding the depth chart tends to flip-flop from day to day based on individual performances at certain positions.
"it's been fun watching our defense actually have really good competition on that side," Beaty said, "which is what depth creates for you."