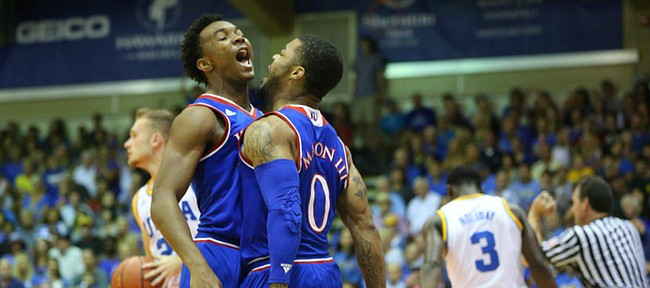 Studying a roster in August can't possibly take into account the chemistry of a team. That forms over time and has too many variables to predict accurately.
So we'll assume Kansas basketball coach Bill Self will find a way to create an environment that promotes positive team chemistry because he always does.
Given that assumption and the combination of proven championship experience and loud incoming talent on this coming season's roster, this becomes a fair question: If the NCAA pitied the other nine Big 12 competitors and decided to let them vote to remove one starter from KU's team for the 2016-17 season, would the Jayhawks still be favored to claim at least a share of a 13th consecutive Big 12 title?
I say yes, although the race likely would go down to the final weekend and West Virginia, the projected second-best team in the conference, is ideally built to take advantage of a Kansas team stripped of its most valuable starter.
Let's consider which starter Big 12 foes would vote to remove from the program that boasts a dozen consecutive conference titles.
Incoming freshmen Udoka Azubuike, a wide, 280-pound center who loves punishing rims with powerful dunks, and Mitch Lightfoot, an active, aggressive athlete, and Mississippi State transfer Dwight Coleby, a reliable rebounder, give Kansas enough front-court depth to mask the loss of either Landen Lucas or Carlton Bragg. Sviatoslav Mykhailiuk and Josh Jackson could help out inside as needed as well.
That leaves Jackson and starting guards Frank Mason and Devonte Graham as candidates for the player Big 12 foes most likely would snap their fingers and make go away if they could.
Jackson's length, quick burst and engaged defensive mind will lead to mass quantities of deflections and steals. His quick jumping ability will bring him many rebounds at both ends. His quickness and ballhandling ability will make him a threat to give defenses fits on clear-out drives to the hoop.
Kansas doesn't have another player Jackson's size who brings as many different ways to influence a basketball game. But he's a freshman and asking him to be the second-best ballhandler on the team might be a bit too much to put on him, so the answer has to come from one of the nation's top backcourts.
Mason and Graham give Kansas two starting point guards with a combined five years of Big 12 experience, a luxury that will make the Jayhawks difficult to catch from behind, tough to rattle with full-court pressure.
Take one of them away and it changes everything. Even with both of them in the backcourt, Kansas averaged 19 turnovers in going 2-1 vs. West Virginia. The 22 miscues in Morgantown in a 74-63 loss Jan. 12 were a season high. The Jayhawks' second-worst turnover total of 20 came in an 81-71 victory vs. the Mountaineers in the Big 12 title game March 12.
We'll give the nod to Graham over Mason as KU's least dispensable player because of the job he did defensively against Buddy Hield in Norman. Take Graham off KU's roster and West Virginia might sweep the season series, but KU's overall strength and championship pedigree likely still would prevail in a close, 16-game, regular-season race.
Self could have recruited a graduate transfer point guard as insurance against an injury to either Graham or Mason. The fact that he didn't was a vote of confidence in Lagerald Vick and Svi. It also took a security blanket away from Self in that it forces the coach to let both players play through mistakes and grow on the job as key reserves, instead of shrinking on the bench.
Not recruiting an insurance policy was a gamble on Self's part. Then again, he always chooses the aggressive play over the passive one.
How has it worked for him so far?