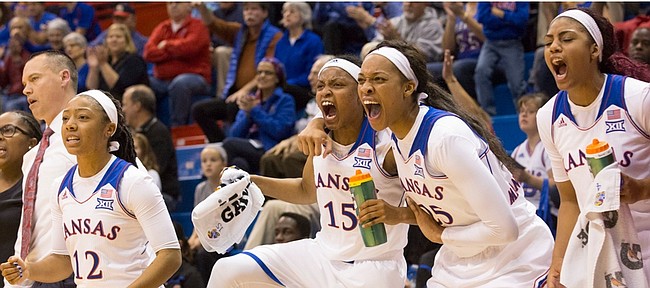 The Kansas women's basketball squad will get a taste of international competition and culture over the next week and a half, with four exhibition games in France and Switzerland.
"I don't think the players could be any more excited. There is just a tremendous enthusiasm to go and experience a different culture in two separate countries," KU coach Brandon Schneider said. "It's a chance to do some touristy things, and there is also the element of playing four games over there. As coaches, we were really excited about the opportunity that we had to get in 10 days of practice in preparation."
The Jayhawks will play friendlies at four sites — two in France and two in Switzerland — during their 10-day tour. KU will play Aug. 11 and 12 against the AMW All-Stars, Aug. 14 against Sion Select and will wrap up the trip on Aug. 16 against Nice Select. Those teams are primarily composed of professionals and national team members, according to Schneider.
Along with the high-caliber competition, the Jayhawks will have to adjust to playing under FIBA rules, which include a 24-second shot clock instead of the NCAA's 30 seconds per possession.
"My big focus has been, 'Can we spend 10 days together really building some chemistry and some bonds and improving relationships?'" Schneider said. "My hope is that the time spent over there is that everybody becomes a better teammate, and on the court obviously you want to gel and see some of the things that we've been practicing hopefully put into play."
While Schneider won't have any freshmen to work into the mix, he thinks the four games overseas will be a good opportunity for transfer guards McKenzie Calvert and Jessica Washington to become more familiar with their new teammates. Schneider is also excited to see more growth out of his sophomore class — which includes Kylee Kopatich, Tyler Johnson, Jayde Christopher, Chelsea Lott and Aisia Robertson.
"All of those freshmen are a year older," Schneider said. "They are so much closer to finishing our sentences as coaches compared to a year ago when they were hearing things for the first time. Just the development of understanding what our philosophy is and our terminology, and I think we've grown leaps and bounds."
All of the upperclassmen on Schneider's squad are looking forward to the chance to play overseas as well. Junior Chayla Cheadle will join seniors Jada Brown, Timeka O'Neal, Sydney Benoit and Caelynn Manning-Allen as the most experienced Jayhawks making the trip.
For Cheadle, this will be her first trip overseas. The 6-foot junior is ready to hit the hardwood in Europe, but she also hopes to make the most of the tour with her teammates off the court as well.
"I'm looking forward to seeing everything, shopping, trying new food, so it's pretty exciting," Cheadle said.
Cheadle and the Jayhawks had their final practice Monday morning prior to their international flight.
"We've been practicing for 10 days, and those days have been pretty long," Cheadle said after the team's practice. "We're just excited. We have a new group of girls and are just looking forward to bonding with each other."
More like this story on KUsports.com