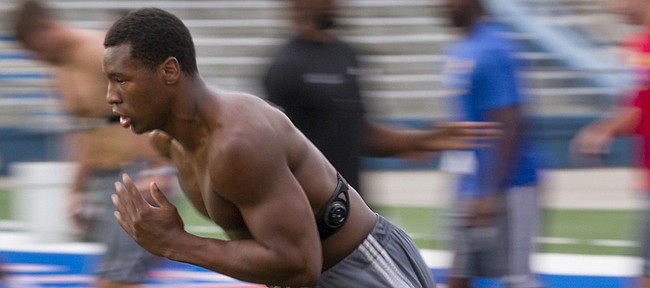 For the most part, Kansas football players got through their first two preseason practices without suffering anything more than some dings and bruises. But head coach David Beaty said Saturday one of the team's most talented players would have to spend at least a little time as an observer instead of a participant.
According to Beaty, sophomore defensive end Dorance Armstrong Jr. "kind of tweaked his leg a little bit," leading KU's trainers and coaches to take a cautious approach and have him sit out.
"He's gonna be fine," the second-year KU coach added. "We've had him evaluated by our doctors. We know what that guy can do. We're not gonna put him out there for a couple of days and let him heal up. He'll make a full recovery, he'll be good. Like I said, he's fine."
Armstrong, a 6-foot-4, 241-pound defensive lineman, registered 3.5 sacks and 5.6 tackles for loss as a true freshman in 2015. Beaty remarked the D-end is so strong he should recover quickly from the minor injury.
"I know he's sad that he's not gonna be out there (at practice), because he wants to practice every single minute of the day," a chuckling Beaty said. "But we're gonna be cautious with him, because he's one of our best players."
With Armstrong sidelined, Beaty added, the coaching staff will be able to evaluate some other linemen more thoroughly. KU defensive line coach Michael Slater identified true freshman defensive end Isaiah Bean (6-foot-4, 210 pounds) as one Jayhawk who resembles a younger Armstrong.
Practice gets 'chippy'
As the Jayhawks try to bounce back from a winless 2015, Beaty often has proclaimed to his players the value of competition within their preparation. That's why the second-year KU coach didn't get overly upset with his players when Friday, during the team's second preseason practice, a few drills turned more intense.
"Man, the competition's been so tight and in depth and so heated," Beaty explained, "that we got a little heated with the wide receivers and the DB's, and then we got chippy inside with the offensive line and the D-line. That's something that you like to see, but you want to be able to see a mature team recover from that and re-focus and get back on the objectives that you have at hand."
According to their coach, the Jayhawks did just that in the aforementioned instances, maybe for the first time since he arrived at KU.
"We want them getting after each other. I mean, it's a physical game, so I was pleased with seeing that," Beaty said, adding the players' ability to move past the quarreling and finish practice strong is why it earned his approval.
Takeaways crucial
When Beaty witnesses his team overcoming adversity at practices, he takes note. Following Friday's practice (Beaty spoke to media prior to Saturday's work), the head coach made a point to bring up the closing stretch to his assistants.
With only 10 to 15 plays remaining and the night winding down, Beaty said KU's offense had outshone the defense. But that didn't stop coordinator Clint Bowen's crew from bouncing back.
"They kept playing, they created a turnover and, man, because of what we do on offense, you're never out of a game," Beaty said of his Air Raid attack. "If we can get them to do that, we don't need much time to score with what we do."