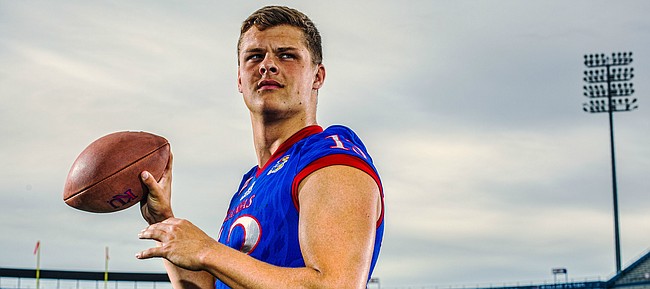 In Ryan Willis' own words, it never should have happened.
Had the Kansas football team's starting quarterback not played in that pickup basketball game, he would not have broken his wrist. He would not have missed the vast majority of spring practices. And, most likely, he would enter his second season as the obvious choice for starting quarterback.
That's not to say Willis has obsessed over some alternate universe in which things came easier for him. Actually, the 6-foot-4 sophomore only concerns himself with his reality: in order to open the season atop the depth chart, he will have to outperform every QB on the roster.
"It was very disappointing," Willis admitted Saturday at KU's media day, regarding spending spring practices with a wrapped right wrist and going through drills without throwing a ball.
"But I did get a lot of mental reps. And it was good to see the other guys," he added. "We have a really talented room with a lot of guys that are capable of doing the job. And we had a good summer, so I got to make up time in the summer, which is good. We all look forward to this coming fall, and we're gonna have success as a team."
Just a few days into preseason camp, Willis didn't look the part of a rusty quarterback, according to his head coach. David Beaty said at the Jayhawks' Friday night practice Willis stood out, adding none of the QB's separated themselves at the prior practice.
"But it's one day," Beaty clarified, prior to KU's Saturday evening session. "We won't make a decision based on that, so don't put too much into that. He had one good day. I thought his eyes were good, I thought his reads were good, I thought his footwork was good. He took care of the ball. He can spin it now. They all can spin it. That's one thing I'm really pleased with. From top to bottom, they can spin it."
While starting the final eight games of 2015 for Kansas as a true freshman, in the wake of a season-ending shoulder injury to junior Montell Cozart, Willis threw for 1,719 yards and nine touchdowns — including at least one TD pass in six straight games. In an Oct. 17 home loss to Texas Tech, the former Bishop Miege standout connected on 35 of his 50 passes and threw for 330 yards and two touchdowns.
Not every week went so smoothly, as Kansas struggled to a winless season in Beaty's first year, but the experience aided Willis' development. To say he learned a lot by starting against eight Big 12 teams would qualify as an understatement.
"It's college football. You're getting live reps," Willis explained. "It was a disappointing season. We obviously wanted to win. We put in a lot of work and effort, blood, sweat, tears, like they say. But all I can really say is we're gonna be a lot better this year."
Although Beaty is not near naming a starting quarterback, he concedes the two returning starters from a year ago, Willis and Cozart (who became the de facto No. 1 this past spring), should have an advantage due to the "massive amount of reps" they've taken.
"I think that's where the premium is. You know they have experience, there's things that they see," said Beaty, who has installed his own version of the Air Raid since the end of last season. "I don't care what offense you're running, that experience of being out there, some of those things are inherently the same no matter what you're running."
In one sense, Willis' injury misfortune might even actually have helped him in one sense. He found a new appreciation for studying video when he wasn't allowed to throw. Once cleared to resume his life as a quarterback, Willis left a positive impression on his mentor/competitor. Cozart could tell Willis wouldn't let his time away catch up with him.
"He's been doing a great job," said Cozart, who also played at Miege as a prep. "Going through summer workouts, you could see him getting back in the swing of things. All of our quarterbacks, as well."
Every coach and player who spends time with KU's QB's will tell you Willis and Cozart aren't the only Jayhawks in the mix in this competition. Other possible candidates include red-shirt freshman Carter Stanley and true freshman Tyriek Starks.
Still, Willis maintains this preseason isn't about him proving himself all over again. Nor is he concerned with making an argument for why he should return to his starting spot.
"We don't know who's gonna win it," Willis said. "It's the guy who puts in the most effort and, as (Beaty) says, whoever earns it."