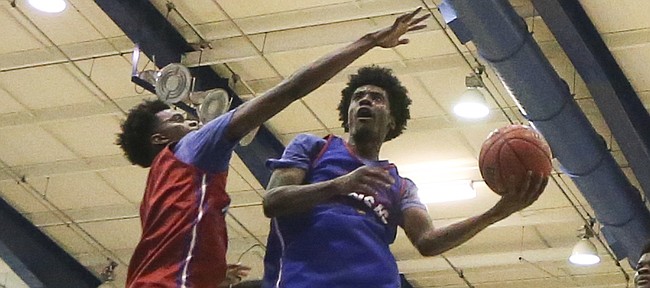 ESPN.com's Chad Ford on Thursday released his updated look at the 2017 NBA Draft class.
Sitting at the top was none other than Kansas freshman Josh Jackson, the No. 1 overall recruit in the 2016 class and a sure-fire Top 5 pick according to most mock drafts.
While Jackson's status as a potential top pick in the 2017 NBA Draft does not qualify as breaking news, it comes with some interesting tidbits from NBA scouts who spoke to Ford.
Here's Ford's breakdown of the 6-foot-8 forward from Detroit who figures to be in Lawrence only for the 2016-17 season.
"There is no consensus No. 1 pick among NBA scouts right now, but it does appear that Jackson is the slight favorite," Ford wrote. "His combination of elite athleticism, competitiveness and feel for the game make him a match-up nightmare on both sides of the court. One scout referred to him as a higher-energy Andrew Wiggins, while another went with a more offensively polished Michael Kidd-Gilchrist. His inconsistent jump shot is his biggest weakness at this stage."
Ford also listed KU sophomore Carlton Bragg at No. 19 on his list, saying: "Most of the NBA scouts that watched Kansas in practice last year swore that Bragg was the best NBA prospect on the team. That will clearly change with Jackson joining the fray at KU, but Bragg's versatility, defensive potential and overall activity make him a very solid prospect. Scouts were impressed with him at Adidas Nations and said that he seems to have grown an inch or two."
Junior guard Devonte' Graham did not crack Ford's Top 35, but his recent play at the Adidas Nations showcase has opened eyes elsewhere.
DraftExpress.com's most recent update, which is dated July 31 and has Jackson going No. 5 overall, slotted Graham as a first-rounder at No. 29. It marked the first time that Graham had cracked the first round on DraftExpress.com's 2017 mock draft.
Bragg was not listed in either the first or second round, but junior Sviatoslav Mykhailiuk was slotted in the first round at No. 27.
More trimming: PJ Washington, a 6-foot-7 power forward from Las Vegas' Findlay Prep recently included Kansas while trimming his list of finalists to eight. Arizona, Kentucky, North Carolina, North Carolina State, Texas, UCLA and UNLV are the other seven on Washington's list. Rivals.com's Eric Bossi predicts that Washington will sign with Kentucky and adds, "If there was a lunch pail award for consistently bringing it on both ends of the floor and being reliable, Washington would win it." In addition to Washington, 6-5 shooting guard Chaundee Brown, the 64th ranked player in the Class of 2017, announced on Twitter that he would reveal his final four schools sometime Saturday. The four-star prospect from Orlando's First Academy received an offer from KU in early July and said then that he hoped to visit Kansas for a second time sometime this fall.
TV times: According to KU's official schedule, non-conference games against Stanford (Dec. 3) and Nebraska (Dec. 10) — both Saturdays — will be televised by ESPN. Tip time for the showdown with the Cardinal is set for 2:30 p.m., while KU will renew its rivalry with the Cornhuskers at 2:15 p.m. Both games will be played in Lawrence. KU's only non-conference games away from home during the 2016-17 season are: Nov. 11 vs. Indiana in Honolulu; Nov. 15 vs. Duke in New York City; Nov. 21-22 at the CBE Hall of Fame Classic in Kansas City, Mo.; Dec. 17 vs. Davidson at the Jayhawk Shootout in KCMO; Dec. 22 at UNLV; and Jan. 28 vs. Kentucky in Lexington. The Big 12 portion of KU's schedule has not yet been released but could be out any day.
More like this story on KUsports.com