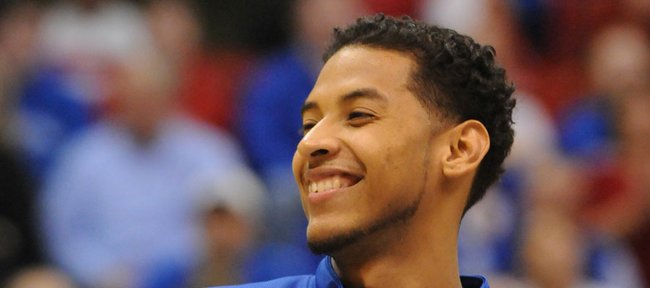 From 2003-09, guard Jeremy Case spent parts of six years in Lawrence as a player and just one as a coach with the Kansas basketball team.
That fact, along with the opportunity popping up at just the right time, created the perfect path for Case to come home, and on Friday morning, KU coach Bill Self announced that Case was joining his staff as a video coordinator for the 2016-17 season.
"I was only there (as a graduate assistant) for one year," Case told the Journal-World on Friday. "So I didn't really get to see the behind the scenes stuff a whole lot. It's absolutely night and day. As a player, you look at things completely differently than you do as a coach. You don't look at certain things and you even take some of them for granted."
Now, after seven seasons away from Allen Fieldhouse, Case will return with the opportunity to soak up every aspect of Self's coaching style.
After leaving KU following the 2008-09 season, Case spent three seasons as an assistant at Southeast Missouri State. He followed that up with a four-year stint at Houston Baptist but, at age 31, decided the time was right to get back involved with big time college basketball.
"Being out, away from KU for seven seasons, and kind of getting my feet wet on the recruiting path has been great," Case said. "But coming back and learning a little more from Coach Self was just too great of an opportunity to pass up."
The way Case sees it, the chance to reconnect with Kansas basketball came at the perfect time in his coaching career. The son of longtime Oklahoma City University coach Win Case — who teamed with Self as a player at Oklahoma State in the 1980s — Case still has dreams of one day leading his own program. And he believes that fine tuning his still-developing chops under Self's guidance at Kansas will do wonders to help him get there.
"It's the right time to make this move," the 31-year-old Case said. "It's not too late, it's not too early."
Beyond that, it figures to be a heck of a lot of fun. Case has not been in Lawrence since attending the Legends of the Phog scrimmage in 2011. His own coaching schedule has made it difficult to get back and also prevented him from following his alma mater as closely as he would have liked.
That's all in the past now and Case said there was one thing, above all, that has him most excited to return to Lawrence.
"Really, just the atmosphere," he said. "There's no place like KU. Everyone knows that. But you don't really realize how special it is until you leave."
Self also is excited about the return of one of his former players, a man who owns one of the most coveted possessions in all of college basketball — a national championship ring.
"I was pleasantly surprised when he contacted me when this position opened," Self said in a news release. "Hopefully this will be a stepping stone that will allow him elevate himself in coaching. He has always been a great ambassador for Kansas basketball."
As for the specifics of Case's new role, he won't be able to hit the road recruiting or get on the floor to coach. And he admits that he figures he will miss that part initially. But he's excited about the chance to be heavily involved with game planning and scouting and refers to his position as "a whatever they need me to do type of thing."
"Coach Self is the best," Case said. "He's one of the best coaches in the country and he's also a great person. He's always been really good to me and my family and it was a no-brainer to try to come back and be with him and his staff at KU."
Did joining a team that figures to start the season ranked in the Top 3 and in position to be a legitimate contender for a national title have anything to do with the decision?
"That didn't hurt either," he joked. "I'm excited about working with all of those guys."
More like this story on KUsports.com