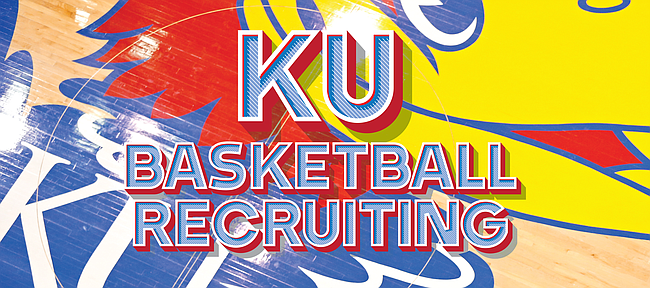 When recent Kansas basketball commitment Marcus Garrett transitioned from middle school to high school, his uncle and AAU coach, Matthew Watts, gave him just one piece of advice.
"If you want to get on the varsity, the best way to make that happen is by playing defense," Watts told him.
It worked, and Garrett quickly found himself playing with the top team at Dallas' Skyline High. Fast-forward three years and the 6-foot-5 versatile guard, who orally committed to Kansas on Monday night, is still in that same gym, digging his feet in, dropping his butt and staring opponents straight in the face.
According to Watts, who called his nephew "a bulldog on defense," that willingness to give up the limelight in order to play elite-level defense has long been a staple of Garrett's game.
"That's always separated him," Watts said. "It's very rare in this day and age, when kids are getting so much exposure off of how many points they score. You very seldom see young men want to take that challenge of guarding and risk getting embarrassed by these talented offensive players."
Not Garrett. Night in and night out, no matter who was wearing the opposing team's jersey, the 44th-ranked player in the Class of 2017 according to Rivals.com has known two things. One, he was going to guard the other team's top player. And, two, he was going to do it well.
"Playing hard, defending and being a good teammate, being unselfish," said Garrett when asked what was most important to him on the basketball court. "But I had already taken pride in defense since I was younger. He just told me that freshmen were going to have to do more to make the varsity so I did what he said — play D and pass to the open man."
According to Watts, who said doctors told the family that Garrett could top out as tall as 6-8, the mature qualities that accompany Garrett's game were what first put him on the radar of so many college coaches.
"For him, it's always been about the team," Watts said. "It's never been about him. He doesn't want the spotlight. He's a pretty quiet kid for the most part."
Officially, Garrett picked Kansas over offers from Baylor, Connecticut, Iowa State, K-State, Oklahoma State and Texas, among others. But, in reality, there really was not much of a decision to make. For starters, Watts and Garrett both believed that KU coach Bill Self's system — three guards on the floor at all times — would be a terrific fit. And beyond that, their familiarity with Kansas — "We're in that market where Kansas is always on TV," Watts said. — brought a certain level of comfort to the whole process.
"I just wanted to pick a school that I knew I could fit in with," Garrett said. "At first, I was gonna cut it to five. But then I just decided, if I already knew where I wanted to go, why not just commit?"
Given the bloodlines they share, Watts said Garrett's commitment was one of the more enjoyable he could remember celebrating.
"It's extra special," Watts said. "I just remember seeing him as a young boy growing up, always dribbling the ball wherever we went. ... It was a process. And I think the best thing about it is, a lot of kids don't fall in love with the process of growing. They want it right off the bat. But it wasn't that way for Marcus. And I thought he handled the whole thing excellent."
Gak down to five: Four-star power forward Deng Gak, a 6-foot-9, 210-pound senior at Blair Academy in Blairstown, N.J., recently narrowed his list down to five schools, with Kansas making the cut. Joining KU on Gak's final five are: Duke, Indiana, Florida and Miami. Gak is ranked as the No. 78 prospect in the Class of 2017 according to Rivals.com.
Visits coming: Troy Brown, the 10th ranked player in the Class of 2017, recently narrowed his list to eight. But that list is going to have to shrink by at least a few more in the near future and Brown knows it. According to Eric Bossi of Rivals.com, Brown is in the process of determining which five schools he will officially visit. Brown, a five-star, 6-foot-6, 195-pound guard from Las Vegas' Centennial High, trimmed his list to Alabama, Arizona, Cal, Georgetown, Kansas, Oregon, Ohio State and UNLV. He already has confirmed to Rivals that he will attend KU's Late Night in the Phog on Oct. 1.
New name for Kemper Arena: Mosaic Arena will be the new name of Kansas City's Kemper Arena, site of the 1988 Final Four where Danny Manning and the Jayhawks hoisted the trophy on KU's first national title since 1952. The new name, announced Tuesday in a news release, is part of an agreement with Foutch Brothers, the development company that plans to turn the arena in the West Bottoms into a regional amateur sports venue. The deal, with Mosaic Life Care, makes Mosaic the naming rights sponsor for the arena.
Mosaic Life Care is a health care company based in St. Joseph, Mo., that is expanding its services into the Kansas City metro area. CEO Mark Laney said in a release that he believed taking over the naming rights for Kemper Arena would help the company expand its brand. But for fans of KU basketball the move likely will be remembered as little more than the reason that one of the most important venues not named Allen Fieldhouse in Kansas basketball history now goes by a new name.