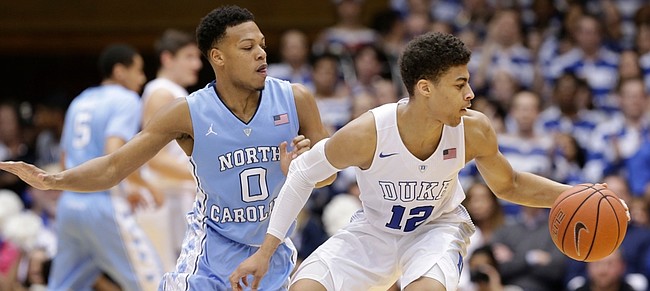 The recruitment of former Duke University basketball point guard Derryck Thornton is about to get serious.
Thornton, a 6-2 freshman who recently announced plans to leave the Durham, N.C., school after one season, announced Monday he will visit USC this weekend, then Kansas University a week from today. He also plans to make trips to Washington and Miami before settling on his transfer destination.
Thornton must sit out one season in accordance with NCAA rules. The timing of that would be ideal at KU, considering the Jayhawks need perimeter help in 2017-18 following the departure of Frank Mason III, who will have graduated, and possibly Devonté Graham and Svi Mykhailiuk, who could turn pro after their junior years. Also, Josh Jackson is expected to be a one-and-done player.
Even if Graham stayed a final season, minutes would not appear to be a problem for Thornton, who would join Graham and Lagerald Vick in the backcourt. KU wants to sign perimeter players Michael Porter (6-8 small forward) and Trae Young (6-1 Norman, Okla., combo guard), who this fall will begin their senior seasons of high school.
Originally from Chatsworth, Calif., Thornton — who played two years of high school ball at Findlay Prep in Nevada — averaged 7.1 points and 2.6 assists while logging 26 minutes a game in Duke's 36 games. He hit 39 percent of his shots, including 32.5 percent of his threes and 69 percent of his free throws. He had 93 assists versus 59 turnovers with 27 steals.
USC has been listed as a strong possibility for Thornton, who in announcing plans to transfer said he wanted to play closer to home. Thornton was ranked No. 14 nationally by Rivals.com his junior year at Las Vegas Findlay Prep, where he averaged 17.0 points and 6.2 assists. He elected to reclassify last summer and play for Duke, which needed immediate point-guard help. Because he had repeated the third grade, Thornton entered Duke at the age of 18.
Of USC, Thornton told Scout.com: "I love their style of play. Andy Enfield (coach) worked in the NBA, Jason Hart (assistant) played in the NBA at my position and Tony Bland (assistant) has been a friend of my family for a long time."
Of Miami, he told Scout: "Coach (Jim) Larranaga and his staff are top notch. They've done great with transfer point guards, from Shane Larkin to Angel Rodriguez, so I'm comfortable with what they do. Also their style of play is amazing."
Of Washington, he said: "Lorenzo Romar has been recruiting me since the 9th grade. He's always given tremendous freedom to his guards and that's why he has so many guards in the NBA. Also I love coach Romar and (assistant) Raphael Chillious as people."
And of KU, he told Scout: "Kansas has a terrific tradition and Bill Self runs a great program. I have a great relationship with Kurtis Townsend. They win the Big 12 every year and I know they're going to be in the national championship hunt."
Topeka freshman nets KU offer: Zach Harvey, a 6-4 freshman combo guard out of Topeka Hayden, has received a scholarship offer from KU, Harvey reported Monday on Twitter.
"Blessed to receive an offer from Kansas University #RCJH #KUCMB," Tweeted Harvey. Kansas State and Creighton have also offered, and he has received early interest from Wichita State, North Carolina, Maryland, Oklahoma and others.
Harvey averaged 12.0 points a game his freshman season at Hayden.
"You can't really put it into words because growing up people used to make jokes and ask, 'Zach, where are you going to college?' and I would say, 'I'm going to KU,'" Harvey told Topekahoops.com.
"For it to become a reality as an option it is just kind of breathtaking. It's a dream really."
Harvey has averaged 14.6 ppg this spring for KC Run GMC's undefeated 15 and under Under Armour Assn. team.
"I was surprised honestly," Harvey told topekahoops.com. "I didn't see it coming for sure. … A motto that I'm just going to keep in my life is, 'I didn't come this far just to come this far,'" Harvey added. "I'm going to keep progressing and try to make it to the next level as I keep getting older. I don't really let the attention get to my head or anything. Every time I play on the court I'm trying to play like I'm trying to get an offer from every single school. I don't worry about all of the other stuff. I'm just trying to play my game."
To read about Harvey go to: http://bit.ly/1Sw3FhN.
Ellis, Mook honored: KU forward Perry Ellis and Jayhawk golfer Yupaporn "Mook" Kawinpakorn were named KU's Dr. Bob Frederick Senior Scholar athletes of the year at Monday's Senior Celebration at Kansas Union. Former KU football standout Gale Sayers was presented with the K Club Lifetime Service Award. Rower Tessa Scott and cross country runner James Hampton were presented with Prentice Gautt graduate scholarships.
Track and field athlete Rhavean Anderson presented the senior address.
"The same way that construction on campus has not changed the fact that this is the University of Kansas, the changes we will face as we disperse to pursue careers, have families, and chase our dreams will not change the fact that we will always, and forever be Jayhawks," Anderson said.