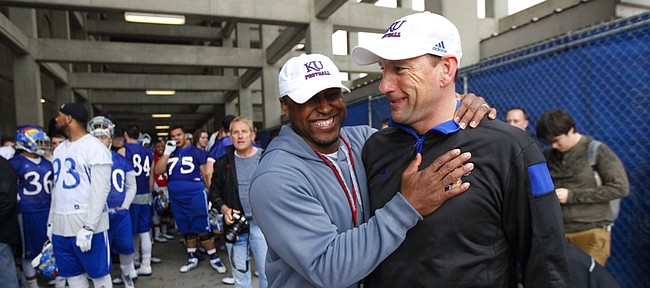 One of the most popular statements uttered by Kansas University fans during the past several struggle-filled football seasons sounds something like this: Don't just tell me they're improving. Tell me how and show me.
Last week, on the heels of his second spring in charge of the program, KU coach David Beaty obliged.
Talking with reporters on the annual post-spring Big 12 football coaches teleconference, Beaty went into great detail about one of the areas he believes his team has improved the most since last season — strength.
"A year ago, we had 20 guys that could bench over 300 pounds, now we have 51," Beaty began. "A year ago, we had 16 guys that could squat 450 or more, now we have 38. A year ago, we had eight guys that were 300-pound-plus power-cleaners. We've got 28 now. Last year, we had three guys that ran 4.5 (-second 40-yard dashes) or better. We have 24 at this point, not including any of the freshmen that are coming in. And then, vertical-jump-wise, we had 13 guys that could jump over 32 (inches), and now we have 29 guys that jump over 32.
"When you have a team like ours that's a development team, you've gotta see development. And some of the numbers our strength staff was able to provide was something you want to see."
Since his arrival in Lawrence, Beaty has spoken highly of strength-and-conditioning director Je'Ney Jackson, a former KU cornerbacks coach who handled the strength staff for Indiana basketball before returning to Kansas.
Jackson was one of Beaty's first hires after being named KU's head coach, and the weight-room results that Jackson and his assistants have pulled out of this young Kansas team are proof of why Beaty moved fast to land him.
But the results go far beyond numbers on a board, stopwatch or scale. In addition to looking and playing faster and stronger, Beaty said his young squad approached the offseason and spring ball with a confidence that was not present during Year One.
"We had none," Beaty said. "Coming into last year, we had three guys that had started a Big 12 game, and that experience is something that I think has been drawn on. ... You see added depth that you didn't have before because those guys have developed, and they've gotten to a point where they can contribute. You see the value of what experience leads to, just knowing what to do, where to go, how to do it.
"The production in the offseason has been something I've been very proud of."
Combine these new developments with the one element Beaty said he was most proud of last year — attitude — and it's easy to see why the coaching staff says the difference between this point now versus this point a year ago is "night and day."
"I think the one thing (we accomplished last season) was just the way they practiced, their attitude and approach every day," Beaty said. "Regardless of the outcome, those guys came to work."
Today, the work continues. And, with spring football now behind them and the Sept. 3 season opener 131 days away, the progress the Jayhawks make during summer workouts and preseason camp in August will go a long way toward determining whether it's improvement or more of the same that lies ahead.