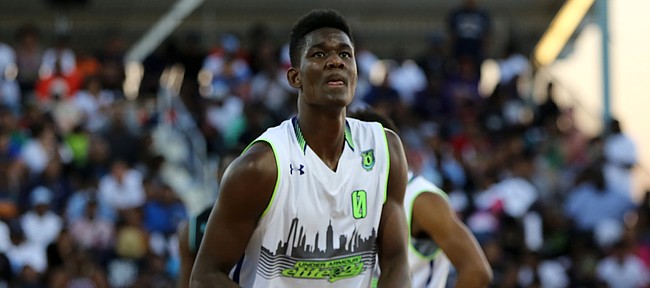 Kansas University's basketball program, which recently landed a commitment from Josh Jackson, the No. 1 prospect in the high school recruiting class of 2016, also leads for the top player in the Class of '17.
DeAndre Ayton, a 7-foot junior forward from Hillcrest Academy in Phoenix, told the Louisville Courier-Journal at last weekend's Nike EYBL event in Indianapolis that KU currently is the only school recruiting him.
Now, that figures to change, considering coaches from Kentucky, Arizona and others watched Ayton play for California Supreme in Indy.
But one would think KU obviously has the early advantage.
"Right now it's Kansas. That's it. I'm only seeing Kansas right now," Ayton told the Courier-Journal on Friday.
Why has only KU been pursuing him?
"I don't know," he responded. "The word is I'm not going to college or something. I'd say college is a must. I have to go to college. My mom wants me to go to college."
Could grades be a factor?
"I'm NCAA eligible. I don't know what's the problem," Ayton told the paper. "I mean, I really don't care who isn't recruiting me, to be honest. It really doesn't matter to me. Whoever comes, comes. I'll look into it and figure something out."
Ayton is from the Bahamas, as is KU junior-to-be forward Dwight Coleby and former Oklahoma phenom Buddy Hield.
"He's special right now," Hield said of Ayton in an interview with Zagsblog.com. "I think he's good for the NBA now. His physical talents ... he can rebound the ball. He's just a talent. You can't teach height."
Prospects deluxe: Three KU prospects were on the floor for the PSA Cardinals' overtime victory over MoKan Elite in Indy.
Michael Porter, a 6-8 junior forward from Tolton Catholic in Columbia, Mo., who is ranked No. 2 in the Class of '17 by Rivals.com, had 17 points and 11 rebounds, and Trae Young, a 6-1 combo guard from Norman (Okla.) North who is ranked No. 13, had 19 points for MoKan. Mohamed Bamba, a 6-11, 205 junior from Westtown (Pa.) School who is ranked No. 3, had 11 points and 14 rebounds for the winners.
"You have to do what's best for you, but we (he and Porter) really, really want to play together at the next level and that's a really high possibility," Young told the Courier-Journal. "We benefit from each other. I make him look good. He makes me look really good. With him on the wing and me at the lead guard, I feel like we can do really big things at the next level, too."
"Chemistry is something that really appeals to me," Porter told the C-J. "We just developed that connection and on the court we're always looking for each other. We make each other's life easier. There's something to say about doing your own thing, being a star, doing something different – but you want to play with and against great players. They make your life easier."
Schools that have a shot at landing the duo: KU, Kentucky, Duke, Oklahoma, Missouri, Virginia and perhaps others.
"There's a couple schools where if I went to, I'm not sure he'd follow, and the same with him," Porter said, "but we have a lot of schools in common and we're really trying to make it work."
More updates: Nicholas Richards, a 6-10 junior forward from Patrick School in Elizabeth, N.J., who is ranked No. 19 in the Class of 2017, had coaches from KU, Kentucky, Syracuse, UConn, Arizona, Seton Hall, UCLA and Duke at his weekend EYBL games. ... Hameir Wright, a 6-7 junior forward from Albany (N.Y.) Academy for Boys, who is ranked No. 116, has heard from KU, Notre Dame, North Carolina, Kansas State, Villanova, Syracuse, SMU and others, Rivals.com reports.