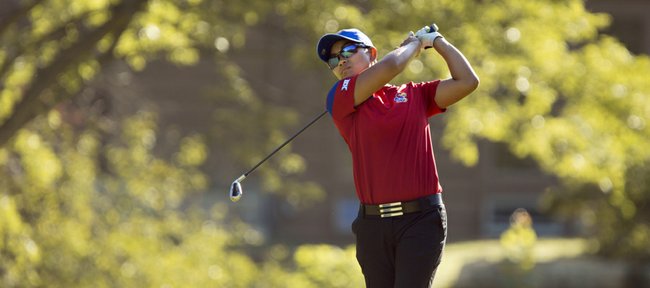 For golfers, the lower they score, the more difficult it is to show significant improvement in their scores. Golfers get better, then worse, then better. The steps forward might outdo the regressions, but it's never a steady forward march. Then again, never say never.
Yupaporn Kawinpakorn, senior superstar for the Kansas University women's golf team, defies all norms when it comes to making herself better.
Kawinpakorn set the KU record for average score as a freshman, broke it as a sophomore, again as a junior and again this season, when she has made her biggest leap yet. Her average scores from freshman season through now: 75.42, 74.46, 73.35, 71.23.
As impressive as the 2.12-stroke improvement is, it ranks just second in significance to another way she has made herself a better golfer. "Mook," the nickname all teammates and coaches use to address her, has made that monumental leap from consistently contending to closing the deal to win.
A native of Thailand, Kawinpakorn had won one tournament, as a freshman, in her first three seasons at KU. She has entered nine this season and has won five tournaments. Mook guns for a sixth 2016 tournament title this weekend at the Big 12 championship at Dominion Country Club in San Antonio.
After that, it's on to the NCAA regionals, where she will compete as an individual, unless KU's team pulls off the upset of the century and wins the Big 12 team title.
Kawinpakorn's remarkable improvement comes in part from working on her short game, gaining a little distance from getting stronger in the weight room and refining her putting stroke. Yet, the biggest leap forward, she said, has taken place between the ears.
"My mental game before was not in poor condition, but not in great condition," she said. "I feel like if I stick with the process, that process will take me wherever I want to go. Whenever I take the lead I need to keep my head down and focus on shot by shot and not thinking about other people's score. I'm getting better at that."
Mook said she has taken advantage of the sports psychologist provided by the athletic department, but added, "Mostly I talk to Josh. He's my personal shrink."
That would her swing coach, Josh Nahm, head of instruction at Firekeeper and husband of KU assistant women's golf coach Katy Nahm, who handles most of the recruiting for the program.
Head coach Erin O'Neil lauded Mook for having a terrific attitude that rubs off on younger players.
"I think probably the most significant improvement we've seen in her is in her course management, how she manages her emotions and some of the decisions she makes under pressure," O'Neil said.
Mook has performed so well under par that when Golfweek's updated college golf rankings were released, she appeared at No. 8, seven spots behind UCLA's Bronte Law.
More like this story on KUsports.com