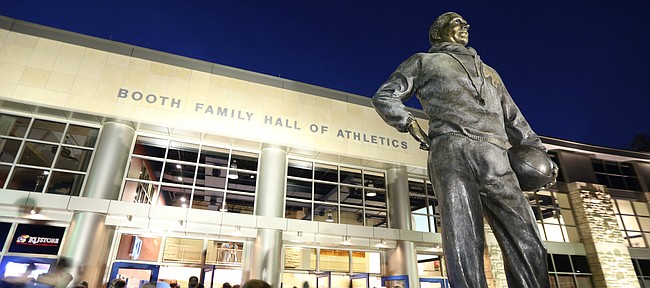 The NCAA revealed Wednesday that Kansas University tied an athletic department record with six teams scoring a perfect APR score of 1,000 for the 2014-15 school year.
In addition, all 16 of KU's varsity athletic programs came in above the 930 multi-year APR number which the NCAA considers to be in "good standing."
Men's basketball, men's golf, women's basketball, women's cross country, women's tennis and volleyball were the six perfect programs in 2014-15, with four of the six holding a multi-year score of 990 or higher.
A team's annual APR (academic progress rate) score is a measure of two things: the overall eligibility of its athletes and the retention of those athletes from semester to semester as they pursue their degrees. Each scholarship athlete in every sport has the potential to earn four points per school year. Two points are possible for being eligible and two points are possible for remaining in good academic standing.
The system came about in 2003 as a new way for universities to track the academic performance of their student-athletes. Until 2003, the only gauges available were team grade-point average and graduation rates. However, researchers discovered that both numbers moved too slowly to matter on a year-to-year basis. Today, with the APR system in place, the numbers are tracked over both a four-year period and on an annual basis, and programs that fall below 930 face the potential for penalties which range from loss of scholarships to postseason bans.
The 1,000 scored by Bill Self's 2014-15 squad represented a bounce-back of sorts. One year earlier, after a streak of eight perfect years in a row, the program dropped below 1,000 due to a retention penalty.
The star-studded hoops program now has scored 1,000 in nine of the last 10 years but, because of the structure of the APR multi-year score, will need three more perfect years to get the multi-year number back to the top.
Regardless, KU's Associate Athletics Director for student-athlete support, Paul Buskirk, said Self's program remains a model of how to blend academic success with athletic achievement.
"Men's basketball here is still well above the national trends," Buskirk said.

Men's and women's track both had single-year numbers below 930 — the only two KU programs to fall below that threshold — but because the NCAA only worries about the four-year score, there is no penalty for dropping below 930 in any given academic year. Despite that fact, Buskirk said such numbers certainly catch his eye.
"Red flag is a good term," said Buskirk, who, along with other members of KU's academic support staff and the head coaches, keeps constant tabs on the academic performance of all of KU's scholarship athletes. "In track's case, a lot of life stepped in. There were a lot of personal circumstances that ended up having students leave the program. That does happen, we just happened to have a few happen at the same time."
Because of past performances, track's multi-year numbers (936 for men and 956 for women) stayed above the good-standing mark, which gives Buskirk, head coach Stanley Redwine and his student-athletes wiggle room to get things back on track.
"This can happen a couple of times in your four-year measurement and you're OK," Buskirk said. "But you can't do this four years in a row."
One of KU's more high-profile programs is headed the opposite way.
After suffering through a couple of low-scoring seasons because of the departure of several scholarship players — many of them junior college transfers — brought in during the Charlie Weis era, the KU football program's 936 multi-year score, though still on the low side, is higher than in recent years and second-year coach David Beaty's squad showed progress with a 946 score for the 2014-15 school year. Previously, the football program tallied a 908 single-year APR score for 2013-14.
"The one-year (score) is the encouraging part because our trend is moving in the direction where we need it to go," Buskirk said. "Coach Beaty is very much on board with what we inherited from the predecessor and he's doing a fabulous job of managing his numbers."
In today's world, with more and more student-athletes leaving school early to pursue professional opportunities — particularly with men's basketball at Kansas — keeping athletes in good academic standing has become an even greater challenge. But Buskirk said both the continued commitment of his academic support staff while the student-athletes are on campus along with an increase in online opportunities when they are not has made academic performance easier to manage and track.
"We have a variety of options in place to help those students be successful," Buskirk said. "There's tremendous flexibility that just didn't exist 10 years ago. This institution has taken strides which are just phenomenal to help."
KU's multi-year APR numbers by program
(2014-15 number in parentheses)
Baseball — 965 (981)
Men's Basketball — 990 (1,000)
Men's Cross Country — 966 (947)
Football — 936 (946)
Men's Golf — 993 (1,000)
Men's Track — 936 (914)
Women's Basketball — 973 (1,000)
Women's Cross Country — 993 (1,000)
Women's Rowing — 978 (965)
Women's Golf — 981 (974)
Softball — 976 (977)
Women's Soccer — 965 (977)
Women's Swimming — 971 (978)
Women's Tennis — 968 (1,000)
Women's Track — 956 (906)
Volleyball — 990 (1,000)