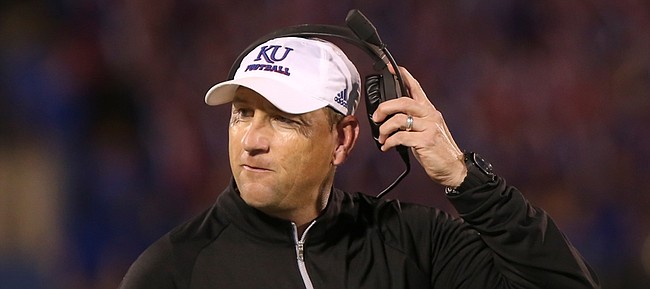 Tuesday's annual post-spring Big 12 football coaches teleconference featured questions and answers about everything from position battles at individual schools to big-picture topics affecting the conference.
Second-year Kansas University coach David Beaty was asked about both during the 10 minutes he spent on the phone. And, in his typical Texas demeanor, with quirky wording and southern drawl, Beaty gave his input on where he thought the Big 12 Conference was headed in terms of moving toward playing a conference championship game again.
"As you know, I've got enough to say grace over right here at the University of Kansas to try to get this thing right, and we're working hard at it every day," Beaty said. "(There) are obviously looming issues that are coming down the pipe, and we know what we control is to go out there and put a great product on the field to represent our university and, really, our conference, which we feel is the top conference in the country. And we've gotta play at a (high) level consistently to be able to continue to be a part of the power that is the Big 12."
That concept of representing the powerful Big 12 with pride was something Beaty continued to emphasize throughout the call.
"We're trying to work on making sure we get our part right," he said. "That's kind of big in terms of just reinforcing the power of the Big 12."
As for whether he thought a conference championship game would one day return to the Big 12 schedule, Beaty did not hide his prediction, even if it might be awhile before the Jayhawks factor into it.
"It'll be interesting to see how it plays out," he said. "I do believe that at some point there'll probably be a championship game played."
Since its inception in 1996, the Big 12 has hosted 15 conference championship games in football, one each year starting in 1996 and running continuously through 2010.
Since then, with conference realignment knocking the Big 12 from 12 members down to 10, the conference has used a round-robin schedule and the not-always-accurate "One True Champion" slogan to produce its champion, be it in an outright manner or through a system of tie-breakers.
With the end of the BCS era and birth of the College Football Playoff, the importance of having a 13th data point and extra opportunity to a prove a team's worth of being included in college football's Final Four has inspired the powers-that-be in the Big 12 to explore the idea of bringing back the title game, both with conversations at meetings and legislation with the NCAA.
Although his emphasis today is on doing everything in his power to return Kansas to a competitive state, Beaty said he had faith that the right thing would happen for the conference.
"We have unbelievable administrators that run our conference," he said. "And they're very smart, and they're very good at what they do, and they know what we need."