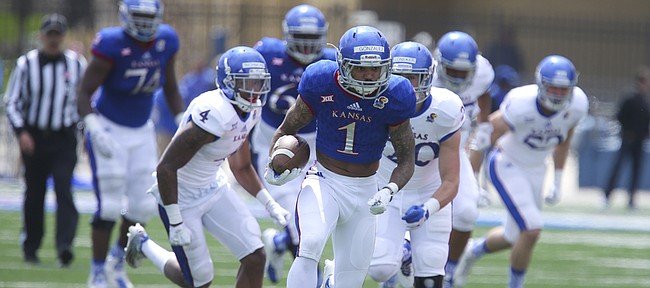 The rebuilding Kansas University football program still lacks the depth and experience to compete week in and week out against a brutal schedule, but the Jayhawks will find themselves in a few close games after scoring an expected blowout victory in the opener against University of Rhode Island.
Someone will need to step into the limelight with a big play for Kansas, coming off an 0-12 season, to end up on the right side of the close ones.
Ten players who have the potential to deliver in a big fourth-quarter spot in a tight game:
1. LaQuvionte Gonzalez, jr.: As the situational-football exhibition that replaced the traditional Blue vs. White game played out before a small crowd, someone needed to deliver a memorable play for the spectators to remember. Speedy Gonzalez, the Texas A&M; transfer wide receiver who wears No. 1, made it happen by using his speed to turn a slant into a 61-yard touchdown. He has the ability to turn a close game KU's way with one loud play.
"That's what you'll be seeing all year," Gonzalez said afterward.
2. Dorance Armstrong, so.: To Big 12 defenses, hell hath no fury like the pass. Let quarterbacks running spread offenses get comfortable in this conference, and they'll shred a defense all afternoon. Kansas has had long droughts without talented pass-rushers, but Armstrong showed signs during his true freshman season of becoming a serious quarterback-harasser. When he shed blockers, he closed in on quarterbacks with exciting speed. He produced 3.5 sacks and also used his long arms to bat down four passes. The 6-foot-4 defensive end weighed 225 pounds as a freshman and has packed on 16 pounds of muscle.
It doesn't take a big leap of faith to picture Armstrong executing a swim move to get past the shorter, wider offensive tackle and reach the quarterback for a sack fumble that turns a game's momentum. Brian Hanni, or whatever voice replaces that of retired Bob Davis, will make the call that brings hands in cars across the state off the steering wheel to punch the air.
3. Taylor Martin, so.: Asked to name the fastest players on the offense, Montell Cozart didn't hesitate and mentioned Martin and Gonzalez.
"He used to want to bounce everything outside, but he's getting better at trying to hit the holes now," Cozart said of Martin.
How well Martin develops the skill to run between the tackles will determine how many carries he gets. If he can earn ample playing time, he eventually will pop a run in a big spot.
Martin said he has beaten Gonzalez in races in practice.
Martin carried the ball just seven times for 16 yards as a true freshman and never had the chance to show his speed by getting outside the defense.
"I need to trust my ability and following my linemen," Martin said. "Finding good holes to hit and hitting them fast is what I'm working on."
4. Stephan Robinson, so.: Cornerback showed speed and nose for the ball in the spring exhibition. He intercepted a pass and broke up two others.
"I think I had a good game, but I always expect more out of myself," Robinson said. "I think I could have done better. I really could have had three picks. On the deep ball that I knocked down, I ran faster than I thought, so I had to reach back and couldn't get it (for an interception)."
Robinson spent one year in junior college and turned down offers from, among others, Tulsa and Utah State to come to Kansas.
5. Brandon Stewart, sr.: He spent his first year in the Big 12 out of junior college in survival mode. Now he's ready to make some plays. When Stewart arrived, cornerbacks coach Kenny Perry predicted Stewart would spend his junior year adjusting to Big 12 competition and make a big leap as a senior. Stewart sounds and looks more confident. A more pro-active approach could result in a well-timed big play here and there.
6. Fish Smithson, sr.: Not all game-turning plays are made with speed. Some are made with loaded, quick brains. Smithson will always be one of the smartest men on the field. He used that ability to be in the right place and sound tackling techniques to lead the nation in solo tackles last season. A better job up front from the KU defense will take him out of contention for repeating that feat, but he'll be fine with that. Fish intercepted two passes last season and easily could double that total with an extra year of knowledge. The bigger the spot, the better he'll perform.
7. Tyrone Miller Jr., so: After playing cornerback as a high school senior and a Kansas true freshman, Miller is back at his natural position, free safety. He didn't have the speed to play corner in the Big 12 and was beaten badly at times, but even at that he showed a knack for mixing in a big play here and there. For example, he forced two fumbles and recovered one of them. He'll play with a freer mind and with more aggressiveness as a sophomore.
8. Ke'aun Kinner, sr.: He battled injuries last season and still led the team in rushing yards (566) and touchdowns (five) and had the season's longest rush from scrimmage, a 43-yarder at TCU. Doesn't have Martin's speed, but runs with better instincts and tends to be a step faster than the man chasing him.
9. Joe Dineen, jr.: Had a big sophomore season playing linebacker for the first time in his life. With things coming more naturally now, look for him to make more big plays, picking off passes, sacking the quarterback and forcing fumbles.
10. Derrick Neal, jr.: Receiver-turned-cornerback intercepted a pass and broke up two vs. West Virginia. He has the speed to make things happen, be it with a pick-six or as a return man.
More like this story on KUsports.com