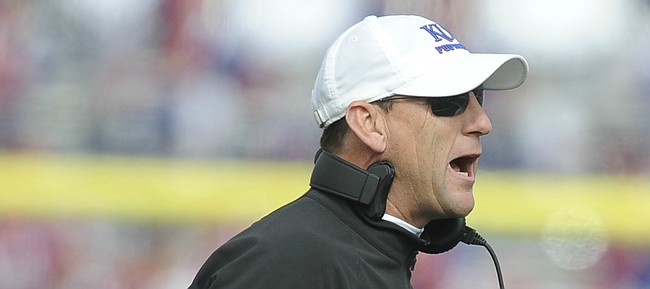 Monday marked the start of the second incarnation of a recruiting phenomenon known as the Kansas Blast for the Kansas University football program.
With spring football in the books and a long list of desired targets in the 2017 recruiting class warranting a little attention, several KU coaches hit the road on Monday with the goal of visiting as many high school football programs in Kansas as possible.
The David Beaty initiative resembles the same trailblazing effort the KU coaching staff went through a season ago. Even though the effort only produced one Kansan in the 2016 signing class — Free State High standout Bryce Torneden — Beaty talked then about the importance of landing in-state talent and appears to be making it a priority once again.
"We worked our tails off at it with a bunch of guys in state," Beaty said last February. "You know what, didn't work out. I'll tell you this, we were in it with a lot of guys. I think we made guys take pause and think that probably normally wouldn't have. That's a step forward."
The next step, which officially began Monday, is to land more Kansas players. However, Beaty made sure to caution both at the conclusion of last year's Blast and throughout his time as the head coach at Kansas that, as much as they'd like to keep as many athletes home as possible, that is not the end-all-be-all goal.
"Listen, we're trying to win the Big 12," Beaty said. "You can't do that with just signing guys that are from a certain place. You got to go sign Big 12 football players. We are working diligently to get that done here in our own state."
Using the hashtag #KansasBlast, several KU assistant coaches Tweeted about their progress on Monday, with water towers around the state and photos of the schools they visited being the most popular subjects of their Tweets.
Despite the fact that last year's Blast did more to lay the groundwork for the future than pay off immediately, Beaty was thrilled with the results and made it clear then that it would continued well into the future.
"One high school coach at a time," Beaty said. "That only continues to build when you feed into it and you continue to make them true relationships. We'll continue to do that. We just got to prove to (the Kansas athletes) that it's worth staying at (home) because this is their university."
More like this story on KUsports.com