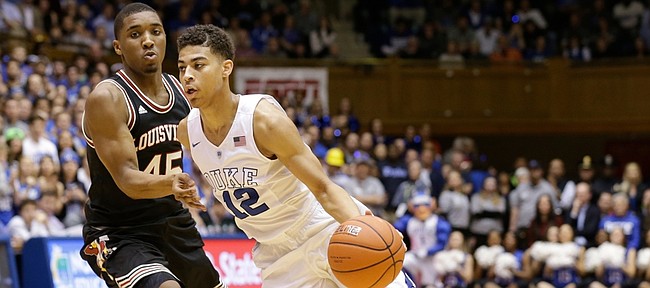 Needing to reload on the perimeter for the 2017-18 season, Bill Self is recruiting one transfer who played for a basketball blueblood last season.
ESPN reports that Kansas University coach Self and assistant Jerrance Howard on Monday met with 6-foot-2 freshman point guard Derryck Thornton, who recently announced plans to leave Duke University after one season.
Originally from Chatsworth, Calif., Thornton — who played two years of high school ball at Findlay Prep in Nevada — averaged 7.1 points and 2.6 assists while logging 26 minutes a game in Duke's 36 games. He hit 39 percent of his shots, including 32.5 percent of his threes and 69 percent of his free throws. He had 93 assists versus 59 turnovers with 27 steals.
USC has been listed as a possibility for Thornton, who in announcing plans to transfer, said he wanted to play closer to home.
He will be able to practice, but not play in games next season and have three years of eligibility left starting in 2017-18 when KU will have lost Frank Mason III to graduation, Josh Jackson to the NBA and possibly Svi Mykhailiuk and Devonté Graham to the pros as well.
KU hopes to land prep guards Trae Young and Michael Porter out of the high school ranks for the 17-18 campaign with other players on the radar as well.
Thornton, who was ranked No. 14 nationally by Rivals.com his junior year at Findlay Prep where he averaged 17.0 points and 6.2 assists, elected to reclassify last summer and play for Duke, which needed immediate point guard help. Because he had repeated the third grade, Thornton entered Duke at the age of 18.
He had a busy freshman season, arriving at school in mid-August after finishing his high school academic workload that allowed him to graduate.
He had 19 points in his first start, a win over VCU, and followed that with 14 in a win over Georgetown, impressing coach Mike Krzyzewski.
"Eighteen years old, his first two starts, are you kidding me?" Krzyzewski told Jason King of Bleacher Report at the time. "The kid isn't afraid."
His nickname in high school was "Houdini."
"In high school and AAU ball, Thornton was known as a scoring guard, a guy who could take over a game with his ability to beat an opponent into the lane and either pull up from mid-range or slash into the paint for an easy basket. Sure, there were a few schemes to remember and the occasional scouting report, but for the most part, it was a simple game—and Thornton was good enough to play it the way he wanted," Bleacher Report's King wrote.
Watson lists KU: Devin Watson, a 6-1 sophomore guard from Oceanside, Calif., who has announced plans to leave University of San Francisco, tells ESPN he is looking at KU, California, UNLV, Fresno State and San Diego State.
Watson averaged a team-leading 20.3 points off 41.8 percent shooting. He hit 65 of 186 threes for 34.9 percent. He had 146 assists to 89 turnovers for Rex Walters' (15-15) Dons. Watson, like Thornton, will have to sit out a year in accordance with NCAA transfer rules.
Langford offered: Romeo Langford, a 6-4 sophomore from New Albany (Indiana) High, confirmed on his Twitter account that KU has offered him a scholarship. "Blessed to receive a scholarship (offer) to the University of Kansas," Langford wrote.
He averaged 23.2 ppg in four games last weekend at an adidas tournament in Dallas. He hit 55.9 percent of his shots.
He's also received offers from Indiana, Louisville, Purdue, UCLA and Vanderbilt, Peegs.com reports.
Holden visits South Carolina: Kory Holden, a 6-2 sophomore point guard who recently announced plans to leave Delaware University, visited South Carolina last weekend. He will visit Seton Hall today and Baylor at the end of the month. He also has KU on his list.
"I liked how close the players were, the coaching staff and how it was like a big community and family," Holden told thestate.com. "Coach (Frank) Martin was what I thought he was. He'll tell you the truth. He'll tell you what he wants from you and lets you know he's going to coach you."
Holden, who averaged 18 points a game last year, will have to sit out next season with two years of eligibility remaining.
More like this story on KUsports.com