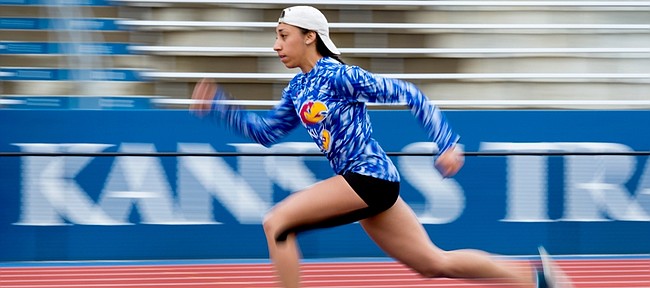 The huge success of the Downtown Shot Put has inspired an offshoot event for this week's Kansas Relays, which open Wednesday morning and conclude Saturday night.
The pole vault is moving off site for the first time this year, a brainchild of Kansas University athletic director Sheahon Zenger, according to meet director Milan Donley. The parking lot outside of the Salty Iguana (southwest corner of Sixth and Wakarusa) will be turned into a pole vault runway and pit for the event scheduled to take place at 5:30 p.m. Thursday.
"I'm excited about it," Donley said. "At the same time, I'm a bit apprehensive about it. The only thing that worries me about the pole vault is wet weather can stop it. It can become dangerous. They can lose their grip on the pole. The pole can slip out of the box. And when these guys are trying to go over 18 feet, you can't have that kind of risk."
It's Donley's job to worry about such things, which is why he keeps such close track of weather forecasts. Thursday's weather.com forecast calls for a 20-percent chance of rain, so there is an 80-percent chance Donley's worries will be for naught. There is a zero-percent chance of rain Friday (high of 78) and Saturday (high of 83). The highest chance of rain (80 percent) is for Wednesday.
Donley's source of excitement about the event from how well street pole vaults have been received in Europe for decades.
"People buy tables, the restaurants serve food and it becomes pretty festive," he said. "The people watch from their tables along the runway and the people can sit and eat and drink and watch the pole vault at ground level. When you're looking up, 18 feet looks even higher."
The event will feature a crowd favorite. Former Kansas University vaulter Jordan Scott, NCAA outdoor champion in 2010, 2013 USA Indoor champion, and seven-time Big 12 champ, is in the field. So is Jack Whitt, 2012 NCAA outdoor champion for Oral Roberts. Carlo Peach of Germany also has a shot at winning the exhibition.
Downtown Shot Put
The shot put again will have a field packed with world-class performers is scheduled for 6 p.m. Friday at its usual location, 8th and Vermont. The sunny forecast generally means a huge crowd of spectators who watch the event, mingle with competitors, stick around to listen to live music (Brody Buster band) and then fill up the downtown restaurants and bars.
The field for the sixth-annual shot put has been expanded from eight to 10 and includes eight throwers ranked among the top 20 in the world.
The throwers and their current world rankings: 3. O'Dayne Richards of Jamaica; 5. Reese Hoffa; 6. Jordan Clarke; 7. Ryan Whiting; 8. Christian Cantwell; 9. Tim Nedow of Canada; 13. Jon Jones; 16. Darrell Hill; 31t. Cory Martin and Kurt Roberts.
Richards, Clarke, Jones and Hill are making their first appearances in the Lawrence Downtown Shot Put. The other six are veterans of the popular event.
Hoffa, the 2012 winner, and Whiting, the winner in 2013, are seeking their second titles in the Lawrence Downtown Shot Put. Christian Cantwell, winner the past two years, seeks his third. Every winning throw has surpassed 70 feet, so the pressure is not only to win, but to keep that streak alive.
KU part of quadrangular meet
For the second year in a row, in addition to the high school meet and open college meet, the Kansas Relays will include a scoring quadrangular meet featuring KU. Colorado, Nebraska and Rice will compete with KU for the team title. Most of the event finals take place Saturday afternoon and night. For the quad events, only competitors from those schools will be competing. Last year, because the forecast for the final day was so bad, the meet was shortened by a day and competitors from the quad and open meets shared the track for races. That won't be the case this year, which should make it easier for spectators to know the significance of runners passing others.
Saturday's busy schedule at Rock Chalk Park starts with high school events (10:30 a.m. to 3:10 p.m.). From 4 p.m. through 8:06 p.m. the open college meet and quad meet will take turns in each event.
Kansas standouts, past and present
Current KU competitors worth watching include:
Whitney Adams: She stands just 5-feet tall but moves her strides so swiftly she came within .01 seconds of tying the school record in the 800 meters two weeks ago. The 800 final is at 6:24 p.m. Saturday. She also will compete in the 4x400 at 7:53 p.m.
Casey Bowen: An All-American and two-time Big 12 pole vault champion, he can be seen high in the air at 6:30 p.m. Saturday at Rock Chalk Park.
Mitch Cooper: Throwing the discus at 4 p.m. Saturday, Cooper is trying to earn a spot on the Australian Olympic team.
Daina Levy: She has a personal best of 69.02 meters in the hammer throw, an event in which she will compete at 3 p.m. Friday. If Levy can throw 71 meters, the Olympic A-Standard, by July she likely will represent Jamaica in the Olympic Games.
Sharon Lokedi: Fresh off setting the school record in the 10,000 meters, Lokedi will run half that distance at 7:09 p.m. Saturday.
Strymar Livingston: He will try to top the Rock Chalk Park 800-meter record of 1:50.54 he set last year in winning the KU Relays in a race that begins at 6:33 p.m. Saturday.
Former Jayhawks scheduled to compete include Paris Daniels, Diamond Dixon, Mason Finley and Michael Stigler.