Kansas University banged out 12 hits — three for extra bases — and clinched its Big 12 softball series with Texas Tech with a 6-2 victory over the Red Raiders on Saturday at Arrocha Ballpark at Rock Chalk Park.
Briana Evans went 3-for-3 with a run and an RBI, and Jessie Roane homered and drove in two to pace the Jayhawks' offense.
It was KU's "Jayhawks for a Cure" game, to raise awareness for kidney cancer. Kansas coach Megan Smith's husband, Paul Buske, died of the disease in June of 2011, and their son, Cooper Buske, threw out the ceremonial first pitch.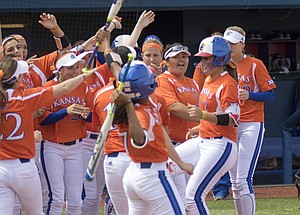 "It's a special day to remember my husband, Paul, but for anyone that is fighting that battle," Smith said. "We have a lot of players who have family members that are affected by cancer, so today in our pregame huddle, we said their names, and we were playing for them. We honored them really well with the way we played today, in every aspect of the game."
Alexis Reid (3-5) earned the win. She allowed two runs off eight hits over five innings, with four walks and three strikeouts.
"Alexis did an excellent job," Smith said. "After yesterday, their offense was champing at the bit, and Alexis did a great job setting the tone for the game for our entire team."
Kansas improved to 26-13 overall, 3-2 Big 12, while Tech fell to 19-23, 4-4.
KU will try to complete the series sweep at noon today.
Texas Tech 000 020 0 — 2 9 0
Kansas 110 310 x — 6 12 2
W —Alexis Reid, 3-5. L — Mattison Maisel, 6-8.
2B — Chaley Brickey, Erin McGinley, KU. HR — Roane, KU.
Kansas highlights — Briana Evans 3-for-3, R, RBI; Harli Ridling 2-for-3; McGinley 2-for-4, R, RBI; Brickey 1-for-2, R, RBI; Roane 1-for-2, R, 2 RBIs.