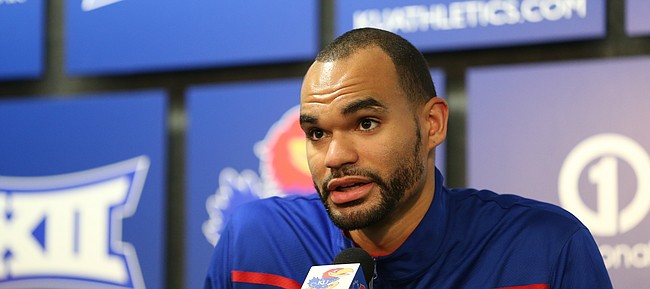 Kansas University senior forward Perry Ellis on Thursday was named the 2016 Big 12 men's basketball scholar-athlete of the year for the second straight season.
The 6-foot-8 Wichita native, who is a three-time academic all-league pick, majored in sports management with a minor in business.
Following his senior season, he was named a second-team consensus All-America selection, a unanimous first-team all-Big 12 pick, one of 10 finalists for the Senior CLASS Award and one of five finalists for the Karl Malone power forward award. On Wednesday, he was named the Danny Manning Mr. Jayhawk Award winner which goes to the team MVP for the second straight season.
He finishes his career as KU's eighth-all-time leading scorer and 12th all-time rebounder. Ellis, who graduates in May, currently is in Houston where he begins working out with John Lucas Enterprises. He's currently listed as a second-round pick in the NBA Draft by draftexpress.com.
Maker to NBA: One-time KU recruiting target Thon Maker, a 7-foot senior from Orangeville Prep in Mono, Ontario, has been deemed eligible for the 2016 NBA Draft thus will not be going to college for a year, ESPN's Chad Ford reported Thursday.
Maker declared for the draft a couple weeks ago but had been waiting on a ruling by the NBA on his eligibility. According to NBA rules, one must be 19 and one year removed from high school to be eligible. He argued he did technically graduate from high school last year (with enough credits) and this year was simply to engage in post-graduate studies in prep school.
Maker is currently working out in South Carolina with trainer Drew Hanlen. KU coach Bill Self said KU freshman Cheick Diallo, who is not expected to be back for his soph season, also is working out in South Carolina. Self did not mention Hanlen by name.
College is for Ayton: DeAndre Ayton, the No. 1 player in the recruiting Class of 2017, tells Rivals.com he will definitely play a year of college basketball. He denounced rumors he'd skip college to play pro ball overseas prior to the 2017 draft.
Ayton, a 7-foot junior from Phoenix (Ariz.) Hillcrest High who is originally from the Bahamas, has a list of KU, Kentucky, Arizona and UCLA.
"I'm going to college. My mom would tell you that she wants me to go to college and that it's a must. Overseas, that's not me. I'm not trying to take risks with my career just to get to the pros fast," Ayton told analyst Eric Bossi.
Bossi writes that Ayton, "will hit the grassroots circuit this spring where he'll play in Nike's EYBL on a California Supreme team that features fellow five-star junior big man Brandon McCoy and potential 2019 star shooting guard Cassius Stanley."
More recruiting: KU is not recruiting Rodney Pryor, a 6-5 graduate transfer from Robert Morris, ESPN's Jeff Goodman reports. Pryor had listed KU as a possibility in the past. Pryor is "focused on Georgetown, Florida and Gonzaga," Goodman writes on Twitter. ... Arkansas transfer Jimmy Whitt, a 6-4 freshman from Columbia, Mo., tells Goodman he's set up visits to Colorado and North Carolina State and has heard from KU, SMU and Kansas State.
What if?: Duke signee Harry Giles, a 6-10 senior from Oak Hill Academy in Mouth of Wilson, Va., who is ranked No. 2 in the Class of 2016 by Rivals.com, tells USA Today from the Jordan Brand Classic he'd have attended KU had he not chosen Duke.
"Coach Self really does a good job at developing bigs and I felt really comfortable with the team. I could definitely see myself playing there and I know that I'd fit into that system," he told the paper.
Why Duke?
"That's where I felt the most comfortable and that's the staff I knew had my best interest in mind. Coach K is Coach K. Coach (Jeff) Capel is my man; everybody. I just knew that Duke was where I'd have the most success so that's why I'm going there," he said.
More like this story on KUsports.com