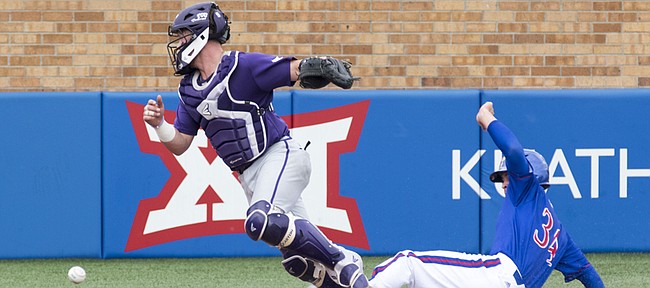 Each hitter in the Kansas University baseball lineup knew before stepping into the batter's box Sunday afternoon at Hoglund Ballpark the Jayhawks would have to produce at the plate to challenge sixth-ranked TCU.
Although KU scored in four of the first five frames and produced 11 hits, the Horned Frogs' monstrous fifth inning powered the visitors to a 14-6 rout in the series finale.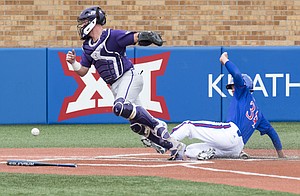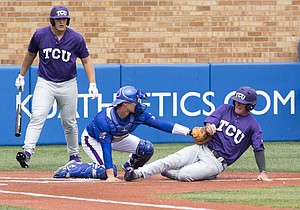 Freshman right-handed pitcher Blake Goldsberry pitched Kansas out of a jam in the third, when he entered for starter Jackson Goddard. However, he couldn't reproduce that success in the fifth, pitching with a 4-3 lead, after causing some trouble for himself.
Elliott Barzilli led off by doubling to left. Then Goldsberry hit Josh Watson and walked Connor Wanhanen. That sequence loaded the bases for senior Dane Steinhagen, who smacked a three-run double to the right-field gap, giving TCU a 6-4 lead and a runner on second, with no outs.
Next, TCU junior nine-hole hitter Ryan Merrill blew the game open, drilling a fly ball that KU senior right fielder Joe Moroney watched clear the wall for an 8-4 Horned Frogs lead.
KU coach Ritch Price said the young reliever from Highlands Ranch, Colo., proved effective in the third and fourth, before things fell apart for Goldsberry in the fifth.
"Obviously, the ball got elevated in that inning. He did a really nice job with his change-up to the first hitter (in the third), with the bases loaded, when he got the tapper back to the mound and got out of it," Price said. "But once he started elevating the ball in the middle of the plate, they didn't miss a barrel in that (fifth) inning."
After Goldsberry surrendered his fifth hit — an Austen Wade double — in an inning and two-thirds of work, Price next turned to senior righty Hayden Edwards out of the bullpen. However, TCU's potent lineup kept right on pounding KU. Cam Warner smacked an RBI-double, and Evan Skoug demolished a two-run homer to right-center.
The Frogs scored eight runs on six hits and led 11-4 before Edwards retired the final three batters of a back-breaking inning for Kansas (12-18 overall, 2-6 Big 12).
"You're trying to stay in the hunt against one of the best teams in the country offensively," Price said of TCU (24-7, 6-3), "and we didn't give ourselves much of a chance with the number of walks (five in the game) and hit batters (one) that set the table for the crooked-number inning. Then once they started getting the bats going, they had one quality at-bat after another."
KU starting pitcher Goddard (2-2), a 6-foot-4 right-handed freshman, gave up his seventh hit of his shortened afternoon in the top of the third, and walked two batters before Goldsberry got out of the inning with a fielder's choice and a ground out, stranding three Horned Frogs on base.
Goldsberry (0-5) only faced four batters in the fourth, escaping unscathed. But TCU's explosive fifth made it a long afternoon for the Jayhawks from that point on, as the Frogs added three more runs in the final four frames. Fittingly, one came on a Josh Watson solo home run in the eighth, TCU's ninth of 10 extra-base hits (18 total) in the series-clinching victory.
Said KU senior leadoff hitter Moroney, who went 3-for-4 with 2 RBIs and two runs scored: "Obviously on Sunday you don't usually have your best (pitchers) going out there, and you know as an offense you've gotta put up some runs to make sure you're in the game. We matched up with them pretty well in the first couple of innings, but… it's really tough to stay up with them."
TCU 030 080 012 — 14 18 2
Kansas 211 020 000 — 6 11 3
W — Brian Trieglaff, 4-0. L — Blake Goldsberry, 0-5.
2B — Cam Warner (2), Austen Wade (2), Dane Steinhagen (2), Elliott Barzilli, TCU; Ryan Pichaichuk, Kansas. HR — Ryan Merrill, Evan Skoug, Josh Watson, TCU.
KU highlights — Joe Moroney, 3-for-4, 2 RBIs, 2 Rs; Colby Wright, 2-for-4, RBI, R.
More like this story on KUsports.com