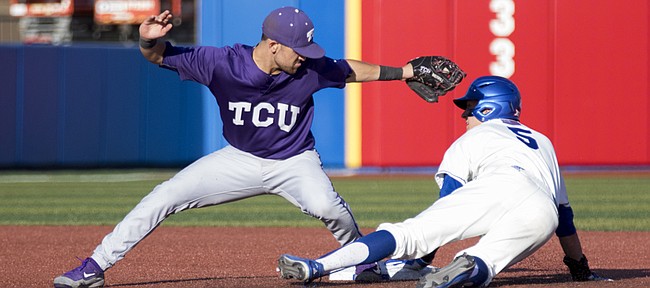 Kansas University baseball players streamed out of the dugout following Friday's 4-3 victory over sixth-ranked TCU with wide smiles on their faces.
When KU first baseman Marcus Wheeler caught the final out on a throw from third base, he raised both of his arms in the air as he ran to the pitcher's mound. The excitement during the victory handshake line turned high-fives into hard-fives.
In front of a season-high attendance of 1,317 at Hoglund Ballpark, this was more than just a regular win for the Jayhawks. This was something special.
"Oh man, it was fantastic," KU senior Joe Moroney said. "That's why you come to KU."
Trailing by a run in the bottom of the eighth inning, KU catcher Michael Tinsley tied the game when he scored on an error. After a sacrifice bunt by Wheeler put two runners into scoring position, sophomore Owen Taylor drove in freshman Devin Foyle with a sacrifice fly to center field.
In the top of the ninth inning, with runners on the corners, KU junior right-hander Stephen Villines closed out the frame with a strikeout and ground ball.
It was the first time TCU lost when leading after seven innings this season.
"Fortunately, tonight we executed in every phase of the game because that's what it took to beat them," KU coach Ritch Price said. "They are as good as their ranking."
The Horned Frogs (22-7, 4-3 in Big 12) left 13 runners on base and hit 1-for-17 with runners in scoring position.
Against one of the top offense in the nation, entering this weekend's series averaging 8.3 runs per game, the Jayhawks (12-16, 2-4) were at their best defensively. KU third baseman Ryan Pidhaichuk caught two scorching line drives with runners at third. Joven Afenir made a diving catch in center field. Price estimated they saved up to seven runs with their defense.
On the mound, KU starter Ben Krauth was his usual self, which is easier said than done against TCU's powerful lineup. In six innings pitched, he struck out nine — each TCU hitter once. It was his fifth straight start he's fanned at least nine batters.
In the fourth inning, the Horned Frogs scored a run without making contact. Kruth walked the bases loaded, then hit TCU left fielder Josh Watson with a pitch.
Yet, somehow, the 6-foot, 185-pound lefty Kruth escaped like Houdini, striking out the next two hitters and forcing a pop fly in the infield to limit the damage.
"Ain't that amazing? You preach to kids next-pitch mentality," Price said. "When you get into trouble, get out of trouble and minimize the damage. … That's the only reason we won the game. The game could've been blown open right there and we could've got buried. But in my 14 years here, he's one of the best competitors we've ever had."

It was already a special night for Moroney, who led off the first inning with his first career home run. The 5-foot-8, 175-pound right fielder drilled a hanging slider over the left field wall.
"Especially now that we got the win, I can celebrate it a little bit more," Moroney said. "That felt awesome. I didn't think it would go out. I had a little help from the wind. It was a good day to put one out there."
The three-game series continues at 6 p.m. today.
TCU 100 100 100 — 3 12 1
Kansas 100 001 02x — 4 8 0
W — Stephen Villines, 3-1. L — Jared Janczak, 4-2.
2B — Devin Foyle, KU; Cam Warner (2), Dane Steinhagen, TCU. HR — Joe Moroney, KU; Evan Skoug, TCU.
KU highlights — Ben Krauth, 6 IP, 5 H, 2 R, 4 BB, 9 K; Villines, 1.1 IP, 2 H, 0 R, 0 BB, 2 K; Foyle, 3-for-4, 2 runs; Marcus Wheeler, 1-for-3, RBI.
More like this story on KUsports.com