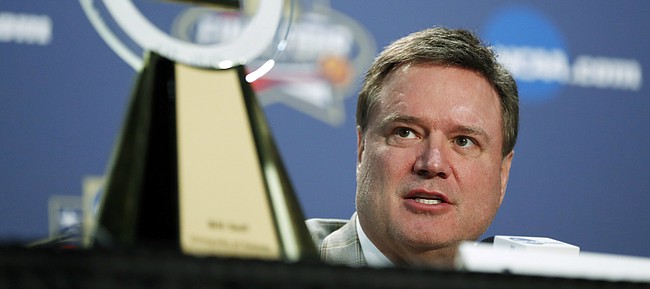 Kansas University forever appears on the lists of schools McDonald's All-Americans are considering. That, coupled with Kansas winning the Big 12 every year, creates the sometimes-inaccurate perception that the Jayhawks always have a talent advantage when they take the floor.
Given that perception, Bill Self's 2-6 career record (2-4 at Kansas) in Elite Eight games begs explanation. The only way to find one is by studying his previous appearances in the round that launches the winning team into the Final Four.
In doing so, I'll bank on a completely unscientific means of measuring which team, in Self's seven Elite Eight appearances, had more talent. I'll count the NBA points scored by players who appeared in that game and see which team had more future NBA firepower. Why that method? Why not? Performance in the best league in the world certainly speaks more to pure talent than high school reputation. (All points used here do not include any scored in Sunday's NBA games.)
North Carolina 59, Tulsa 55, 2000: Although Las Vegas favored Tulsa to win, the Tar Heels had more pure talent. That Tulsa team didn't send any player to the NBA. Joseph Forte, the star of that particular game with 28 points, scored 30 points in the NBA, and Brendan Haywood totaled 5,538. So give the Tar Heels a 5,568-0 victory.
Arizona 87, Illinois 81, 2001: Self coached three NBA players in this one, and Lute Olson had four. Richard Jefferson, Gilbert Arenas, Luke Walton and Loren Woods made it to the NBA, and Jefferson still is playing, coming off the bench for the Cleveland Cavaliers. Frank Williams, Brian Cook and Robert Archibald from Illinois played in the NBA.
Score it Arizona 44,419, Illinois 2,616, so far.
Georgia Tech 79, Kansas 71, overtime, 2004: Brooklyn Nets guard Jarrett Jack, out for the season after knee surgery, scored a game-high 29 points vs. Kansas and easily has scored more NBA points (8,887) than the combined total of the other six players who made it to the world's best basketball league. KU's NBA alumni: Wayne Simien (169), J.R. Giddens (73), Aaron Miles (16) and Keith Langford (2).
Credit the Yellow Jackets with a rout, 11,863-260, thanks in part to Will Bynum's 2,921 points. Somewhat surprisingly, Luke Schenscher only scored 55 NBA points.
UCLA 68, Kansas 55, 2007: The Jayhawks didn't look so hot sneaking past Southern Illinois in the Sweet 16 and didn't play any better against the Bruins, even though they had the same basic team, just a year younger, as the one that won it all the next year.
But it's not as if they faced a less talented team in UCLA.
Freshman Russell Westbrook, who played just five minutes in this Elite Eight game, has scored more NBA points (12,525) than the seven Jayhawks with NBA experience. Score it UCLA 28,829, Kansas 12,482.

Aaron Afflalo (7,456), Darren Collison (6,203), Luc Richard Mbah a Moute (3,385) all have higher NBA point totals than every KU player with the exception of Mario Chalmers (5,236), who scored just two points on 1-for-8 shooting against the Bruins. NBA points for the rest of the Jayhawks: Brandon Rush (3,035), Darrell Arthur (2,961), Julian Wright (907), Darnell Jackson (308), Sasha Kaun (18), Sherron Collins (17).
Kansas 59, Davidson 57, 2008: Within a couple of seasons, Stephen Curry will pass the point total of the seven NBA Jayhawks who teamed to send Self to his first Final Four, but for now Kansas has the lead, 12,442-10,902.
VCU 71, Kansas 61, 2011: Five Jayhawks who played in this game have combined to score 9,069 points so far, none for VCU players. Troy Daniels, the Ram on the roster to land an NBA job, did not remove his warmup jacket, and neither did KU's Jeff Withey.
Of all the Elite Eight misses, this one must have hurt the most for Self. The Rams caught fire from three-point land (12-for-25), and even players who usually did not shoot from long range got caught up in moment and launched successfully. Of Self's eight Elite Eight appearances, this was the one in which he had the greatest talent advantage.
Markieff (4,208 points) and Marcus (3,369) Morris project to have long NBA careers.
Kansas 80, North Carolina 67, 2012: Carolina played six players in this game who went on to play in the NBA, and Kansas limited the Tar Heels to 20 second-half points. Remarkable.
Harrison Barnes (2,998), Tyler Zeller (2,164), John Henson (1,991) and Reggie Bullock (274) were starters, and P.J. Hairston (644) and James Michael McAdoo (175) came off the bench. Kendall Marshall's fractured wrist sidelined him from playing in this game, so his 786 points in the NBA don't count. The score: North Carolina 8,236, Kansas 1,902.
It will be interesting to check back in five years or so for an update on NBA points from players who participated in Villanova's defense-driven victory against Kansas. Cheick Diallo's points, should he make the NBA, will not count because he didn't play. He probably has the best chance of any player from the two rosters to be taken in the first round, but will need a strong showing at the NBA combine to improve his stock.
As for Self's seven Elite Eight games heading into the Villanova one, he coached the team with more NBA firepower twice, vs. Davidson and VCU, and went 1-1. The opponent had more NBA talent in the other five games, and Self went 1-4 in those. So based on that arbitrary figure alone, Self should have had a 2-5 record coming into this past season in the Elite Eight, and that's exactly what he had.
Looking to next season, if Self lands Josh Jackson and one of the five-star big men he's pursuing, and if reserves Carlton Bragg Jr. and Sviatoslav Mykhailiuk return, those four players and returning starters Frank Mason III, Devonté Graham and Landen Lucas could form a nucleus that would blend experience and serious NBA potential in a way that could enable Kansas to advance to the Elite Eight and beyond.