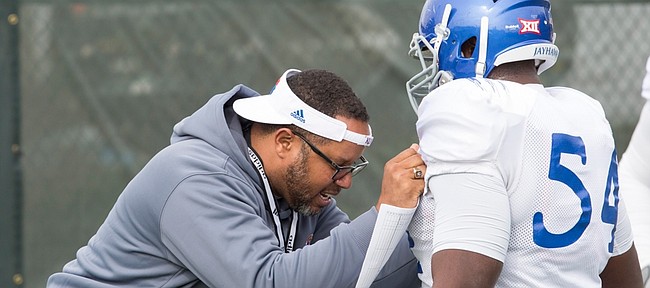 First-year Kansas University defensive line coach Michael Slater was only at Rice for one season when KU head coach David Beaty was calling the offense there, but that was long enough for him to waste no time saying, 'Yes,' when Beaty offered him a job at Kansas this offseason.
Slater, who replaced Oklahoma-bound Calvin Thibodeaux on Beaty's first staff at Kansas, called landing with the Jayhawks a "dream job," and said Beaty's philosophy on building a program and handling his coaches made the decision to leave Rice for Kansas even easier.
"My feet haven't quite touched the ground yet," Slater joked. "But things are starting to settle down a bit. I'm really excited about working for him, just knowing him as a person and what type of guy he is."
In 2010, Slater was in his final season as a graduate assistant at Rice and Beaty was the Owls' offensive coordinator. Although the relationship between the OC and a defensive GA might not seem that crucial, Slater said staff outings and the all-for-one-and-one-for-all culture established by Rice coach David Bailiff made for an easy connection. He feels the same thing at Kansas.
"With him being the leader, you don't doubt that, if there is staff turnover, the person that he's gonna bring in is gonna be someone that's gonna fit in and be just like the guys that are on his staff," Slater said of Beaty.
Slater believes so much in Beaty's ability that he chose to jump on board despite having to leave his 16-year-old son, Kyle, back home in Houston.
"I've made a commitment to be here for as long as (they'll) have me," Slater said.
As for the infant stages of his time working with the KU D-Line, Slater said he was pleased with the effort put in by the players and was going through the feeling-out process to learn what buttons to push with which players.
"You gotta do it all," Slater said. "And everything doesn't work for every person. You gotta find out what motivates a young man. For some guys, being with the 2's motivates them. For other guys, chewing 'em out motivates 'em. And, with some guys you can't chew them out or they'll go in a shell."
Regardless of which style works with which players, Slater said the overall message of KU football as a hard-working, hungry underdog was familiar to him.
And it's that mindset, he said, that kept him from losing sleep over the challenge of trying to slow down these dynamic Big 12 offenses.
"I'm real confident in the guys that we've got and (we faced) a lot of those teams when I was at Rice and we did a good job of defending them then," Slater said. "We were always the underdog and I was always taught not to be scared of pretty much anything. And I take joy in having that as an extra challenge."
---
---