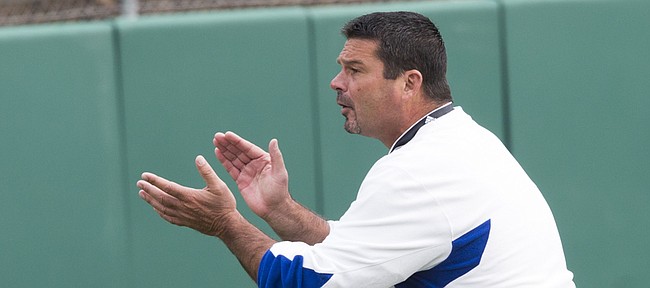 First-year Kansas University special-teams coordinator Joe DeForest may not yet have learned anything concrete about what head coach David Beaty likes to call the hidden third of his football team, but there is one thing about which DeForest already is certain.
Senior Matthew Wyman will not be the Jayhawks' punter in 2016.
"No. He's not gonna do that," said DeForest on Wednesday during his first meeting with the local media since arriving at Kansas. "You can't. It's too much wear and tear on a leg, and you start losing yardage as the year goes on because you're leg-weary. And it's not fair to him because he's not a punter."
During a season in which he was pressed into emergency duty because of KU's inconsistencies at the position, Wyman, a bona fide weapon on kickoffs and long-range threat as a place kicker, filled in admirably. Booming punts for the first time in his life, Wyman averaged 41.5 yards per kick in 53 tries, downed 10 inside the 20 and topped 50 yards seven times.
However, most of those kicks were the result of pure will and lacked true technique, another aspect that DeForest said would make it difficult to envision Wyman handling all three duties again in 2016.
"The punt game was (lacking) because you didn't have one," said DeForest when asked if he watched KU's 2015 film. "And that's no knock on anybody, it's just you asked a kid to do it that had never done it. And that's not fair to him."
Because of that, identifying a punter ranks near or at the top of DeForest's list of concerns as the Jayhawks enter the homestretch of spring football.
DeForest, who joined KU after 15 years of coaching special teams at West Virginia (2012-15) and Oklahoma State (2001-11), said he thought KU had options in the return game but needed to nail down some of the specialist roles.
"That's a point of emphasis," he said. "We've gotta find guys that kick and snap and hold and punt. That's the biggest thing we've gotta work on.
"It's like any other position," he said. "If a guy can play quarterback, he can play quarterback. All I'm trying to do is teach 'em technique on how to drop the ball punting and footwork on field goals and stuff like that. It's gonna be a process. I understand that. But we've had a good start so far and let's just see where it ends up."
In addition to Wyman, junior Nick Bartolotta and freshman newcomer Quinton Conaway will compete for the place-kicking role. Conaway and red-shirt freshman Michael Valentine will vie for punting duties. John Wirtel is the only long snapper on the current roster, and Valentine, back-up quarterback Frank Seurer Jr., and receiver Austin Moses have handled holding throughout the spring.
More like this story on KUsports.com