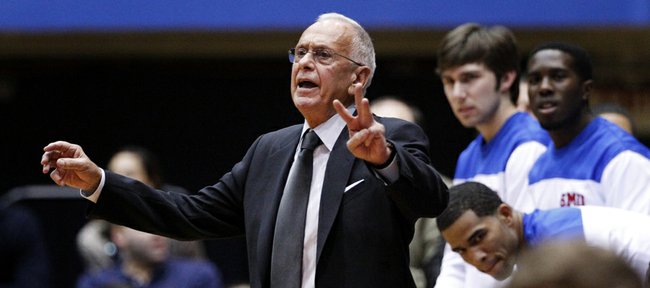 Former Kansas University basketball coach Larry Brown, now the head coach at SMU, again is in trouble with the NCAA and, according to reports, is expected to be suspended for 30 percent (9 games) of SMU's games during the upcoming season.
Reports about Brown's suspension — which coincides with a postseason ban for the SMU program in 2016 — surfaced Tuesday morning and a formal announcement of the punishment was made around 10:30 a.m.
According to multiple reports, Brown is being punished for what the NCAA deems "lack of coach control" after an NCAA investigation into whether former SMU assistant Ulric Maligi and another person connected to SMU's program provided former McDonald's All-American Keith Frazier with academic assistance.
Maligi left SMU in January and Frazier missed the second half of the season after being declared ineligible. Frazier remains on the SMU roster.
ESPN's Jeff Goodman also reported that SMU will lose nine scholarships over the next three years as part of the punishment and Brown will be required to attend a rules seminar over the next two years.
The SMU situation is the third time an NCAA program run by Brown has faced major rules violations, joining UCLA and, of course, Kansas. Brown, who guided the Jayhawks to the 1988 NCAA title, left the program on probation when he left for the NBA following that season.
KU, led then by Roy Williams, faced a similar postseason ban for the 1988-89 season and the Jayhawks have been to every NCAA Tournament since then.
Prior to taking the job at SMU a couple of seasons ago, Brown spent a lot of time around the Kansas program and KU coach Bill Self, who was a graduate assistant for Brown back when Brown led the Jayhawks.
Brown, 75, who was back in town last October for the 60th anniversary of Allen Fieldhouse celebration, has long been a fan, supporter and admirer of the Kansas program and often talked about how his years leading the Jayhawks in Lawrence were some of his best in coaching.
More like this story on KUsports.com