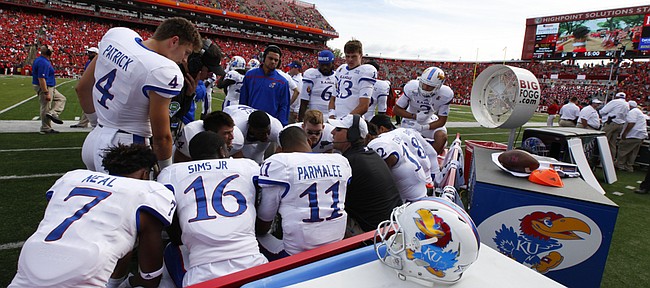 The record shows a rough start in which the Kansas University football team has been outscored 123-75 through three games and just completed its first winless nonconference run since 1988.
But the Jayhawks are not discouraged.
In fact, home losses against South Dakota State and Memphis and Saturday's 27-14 road loss at Rutgers did nothing to diminish the Jayhawks' belief that, (A) they're ready for the start of Big 12 Conference play, and (B) they believe they can win games against the toughest teams on their schedule.
The reasoning, though full of holes in the eyes of their critics, has nothing to do with recent results and everything to do with the building-block approach KU coach David Beaty has brought to his first year on the job.
"We travel up to Ames (Iowa) next weekend, and we've got a great opportunity to start Big 12 1-0," always-sunny senior co-captain Ben Goodman said after the Rutgers loss. "We just gotta continue to prepare well and just trust our coaches and execute."
Goodman's confidence, which was on full display just moments after his team dropped consecutive loss away from Lawrence No. 34, spoke volumes about the character of this team.
"I just believe in the players," Goodman said. "I see how much they care in the locker room, and the demeanor after a loss is (one that shows) they truly care. If we continue working and continue to work hard, then we'll turn this program around and start Big 12 1-0."
It has been six seasons since the Jayhawks (0-3) kicked off conference play with a victory. And the feat has happened just six times since the inception of the Big 12. Still, there is a belief inside the Kansas locker room that it can happen again.
"We're getting better," junior linebacker Marcquis Roberts said. "And we've gotten better every week. We just gotta put a complete game together, all four quarters, hard work and dedication. Compete for four quarters with all you got."
Added Beaty, asked to grade his team's first three games of 2015: "I thought we got a little bit better each week. There's some things that are Achilles' heels that we've gotta continue to go to work on. We continue to allow our opponents to extend drives through undisciplined things like penalties and those are things that kill us."
Such shortcomings will only be magnified in the always-tough Big 12, where six of the conference's 10 teams are averaging 41 points per game or more. The Jayhawks, meanwhile, have topped 23 points just one time and seen their point total drop by at least two scores each week.
Those within the program know that in order to compete and possibly even pull off an improbable victory in the next nine weeks, the Jayhawks are going to have to play flawless football and find a way to put up points in bunches.
Moral victories and plodding progress might mean something for the big picture, but, as Beaty said following the loss at Rutgers, "You can't take the score out of it, unfortunately."
Kickoff for KU-Iowa State is set for 11 a.m. Saturday at Jack Trice Stadium.
Cyclones favored
Iowa State enters this weekend's game with Kansas as a 14.5-point favorite.
The Cyclones, who finished nonconference play 1-2, with losses to Iowa and Toledo and a win against Northern Iowa, were off last week, giving them two weeks to prepare for the winless Jayhawks.
A 34-14 home victory over ISU in Week 9 last season was the Jayhawks' lone Big 12 victory of 2014. And Kansas is just 1-4 in its last five games against Iowa State, which followed a five-game winning streak over ISU from 2005-09.