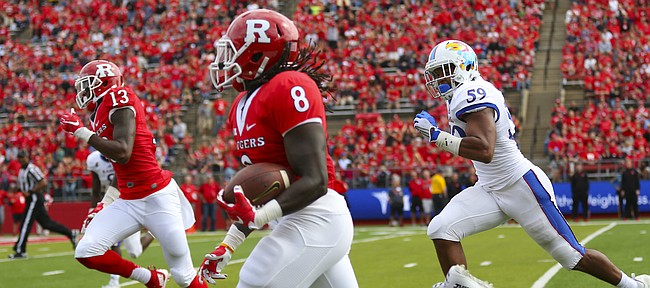 Piscataway, N.J. — Norries Wilson, permanent running backs coach and temporary head coach for the Rutgers football program, didn't complain about defeating Kansas University, 27-14, Saturday at High Point Solutions Stadium, but he didn't do a lot of bragging either.
"We met our goal for the week," Wilson said. "Our goal was to win the game."
Then Wilson stated the obvious: "It wasn't pretty."
Neither team played a particularly clean football game, but Rutgers was decidedly better than Kansas in one area: Running the football.
Four different Rutgers running backs averaged 5.4 yards per carry or better and two rushed for more than 100 yards apiece on a day the Scarlet Knights rushed for 312 yards and two touchdowns.
Kansas, which ran the ball well in the first two weeks of the season, with Ke'aun Kinner eclipsing the 100-yard mark in the first two games of his career, had trouble opening holes Saturday. Kinner, who caught three passes for 49 yards, had 23 rushing yards and two touchdowns on 15 carries. De'Andre Mann had a 41-yard run but finished with 40 yards on five carries.
Asked what it meant for him as the running backs coach to amass 312 yards rushing, Wilson answered: "See the fumble, when (Josh) Hicks put the ball on the ground? It's tough to play in my room."
Podcast episode
KU football coach David Beaty breaks down Kansas' 27-14 loss at Rutgers, Saturday, Sept. 26 in Piscataway, New Jersey.
Hicks rushed for 113 yards, Robert Martin for 102. 
The Scarlet Knights stopped the run as well as they used it.
"This morning when we met before we came over, we talked about what we had to do to win the football game and we talked about on defense we have to stop the run, limit the big play and we have to stop the run. We gave up some big plays, but we stopped the run.
Kansas averaged 2.2 yards per carry.
"That's a good day's work against anyone," Wilson said.
— See what people were saying about the game during KUsports.com's live coverage.
---
More news and notes from Kansas at Rutgers
---
More like this story on KUsports.com