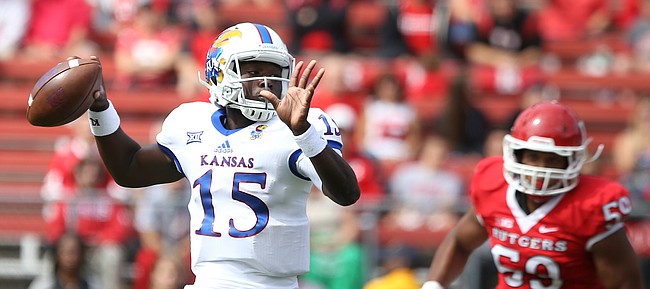 Piscataway, N.J. — With one quarterback out with an injury and another playing under the weather, Saturday's 27-14 loss at Rutgers seemed like a golden opportunity for Kansas University football coach David Beaty to continue to mix true freshman Ryan Willis into the fold at the game's most important and visible position.
But it never happened. And Beaty made the reason crystal clear during his postgame meeting with the media.
"We are going to use Ryan. There's no doubt." said Beaty of the Bishop Miege grad, who played two plays as Montell Cozart's immediate back-up in the season opener and has not been in a game since. "But he is not ready to play with the whole system right now. There's just a lot for a (true freshman). But we're gonna utilize that kid and we can play him into some experience that way."
Junior-college transfer Deondre Ford started Saturday's loss in place of Cozart, who was down with flu-like symptoms. But after Ford suffered a thumb injury midway through the second quarter, the likelihood of Kansas needing Willis, ready or not, sky-rocketed given the fact that Cozart had a fever of 104 degrees Friday night and skipped pre-game altogether while dealing with flu-like symptoms.
"I went over to Ryan and said, 'Hey, man, you gotta be ready and we'll keep it limited and we'll take care of ya,'" Beaty said. 
The need for Willis never came but, from the sound of things, he might have been a part of the game plan even if Ford and Cozart had remained healthy.
"We've got some plays for Ryan, too," Beaty said. "The game plan was, if we got in certain situations, you would've seen Ryan do some things. But we never got into those situations today."
Regardless of who's ready, who's injured, who's healthy and which quarterbacks are the present or future, one thing is clear — the position is still a work in progress and Willis remains a part of the picture.
Podcast episode
KU football coach David Beaty breaks down Kansas' 27-14 loss at Rutgers, Saturday, Sept. 26 in Piscataway, New Jersey.
"The amount of knowledge that you need to play at this level is a little bit more sometimes," Beaty said. "He's getting there, he's just not there yet."
Shaw homecoming a success
In his first game in his home state since winning a state championship during his senior season at Piscataway High, KU safety Tevin Shaw put on quite a show for the 70 friends and family members he provided tickets for to attend Saturday's game.
Shaw finished with a career-high 10 tackles — seven solo — and was one off Tyrone Miller Jr., for the team lead.
"There's always things I could do better," Shaw said after the game. "But, overall, it was a decent game for me. It was just great. We stayed right down the street, really close to where I played football at. I've been to that hotel before and just walking into this tunnel reminded me of the state championship game. It was surreal."
End of 27-year streak
Saturday's loss closed out the non-conference portion of KU's 2015 schedule and marked the first time since 1988 that Kansas finished winless in the non-con.
That was Glen Mason's first season as head coach at Kansas and that team, which finished 1-10, lost home games to Baylor (then in the Southwest Conference) and New Mexico State and road games at Auburn and Cal.
Prior to '88, KU's last winless run through the non-conference portion of its schedule came during Pepper Rodgers' first season as head coach in 1967, when KU dropped games at Stanford, Indiana and home against Ohio to open a 5-5 season.
Familiar faces
A few notable former Jayhawks were in attendance at Saturday's game, including 2014 standout JaCorey Shepherd, a sixth-round pick of the Philadelphia Eagles, who is out for the season after tearing his ACL in preseason camp.
Shepherd made the short trip from Philly for Saturday's game and sat both in the KU fan section and stood on the sideline. He said his rehab was going fantastic and that he was blowing away all of the goals team doctors were setting for him.
Also in attendance Saturday were former KU receiver Kerry Meier, living in New York City for the next nine months before starting graduate work at Lipscomb University in Nashville, and former offensive lineman Brad Thorson.
This and that...
The Jayhawks lost Saturday's opening coin toss for the third time this season and received the opening kickoff after Rutgers deferred its choice to the second half.... The loss dropped KU to 579-601-58 all-time and 0-1 against Rutgers.... Juniors Greg Allen and Courtney Arnick recorded the first interceptions of their careers.... Place kicker Matthew Wyman joined regulars Ben Goodman, Montell Cozart and Fish Smithson as the game's four captains.... Temperature at kickoff was 69 degrees, under partly sunny skies with winds of 15 mph out of the northeast.
— See what people were saying about the game during KUsports.com's live coverage.
---
More news and notes from Kansas at Rutgers
---
More like this story on KUsports.com