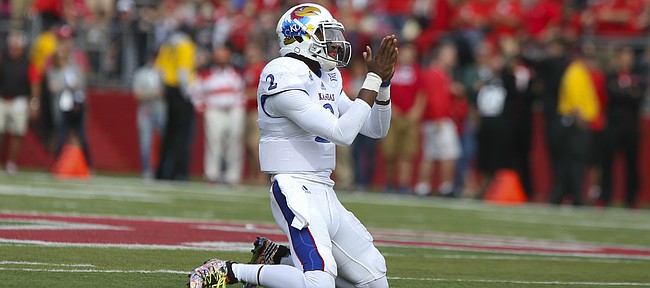 Piscataway, N.J. — Whether you're talking about the camp that believes there's hope or the one that simply insists 2015 will go down as another rough year in a long line of colossal Kansas University football failures, the two sides probably can agree on one thing — it's hard to win without a quarterback.
The Jayhawks tried to do just that during Saturday's 27-14 loss at Rutgers, first by playing with a back-up and then with a guy who had a fever of 104 degrees on Friday night.
Thanks to an illness to top quarterback Montell Cozart, junior back-up Deondre Ford was a surprise starter for the Jayhawks in the third game of the David Beaty era in front of a crowd of 46,136 at High Point Solutions Stadium. But Ford, who played a little in relief during KU's Week 2 loss to Memphis, left the game with a thumb injury with a little less than nine minutes remaining in the second quarter.
News of Ford getting the nod as KU's starter surfaced before kickoff on a couple of KU pregame shows and all over social media. That added confusion and a hint of controversy to the decision. But Beaty said after the game that the decision was not made until Saturday morning and came down to little more than the fact that Cozart was sick.
In one of those only-at-KU moments, though, the injury to Ford pushed Beaty to go to Cozart for the rest of the game because, as Beaty put it, "Montell and Deondre are clearly, clearly the most prepared to play for us. Clearly. And that's why those two guys are the guys right now."
"I didn't even have to go search for him," Beaty added of his decision to turn to Cozart, who took over on second-and-10 from the Rutgers 27 yard line. "When I turned around, he had his helmet in his hand and the answer was pretty easy at that point."
Cozart made sure of that, wasting no time grabbing his helmet and rushing onto the field after seeing Ford, who finished 6-of-13 passing for 85 yards and one interception, go down after a vicious hit by Rutgers' Kaiwan Lewis.
"At one point this morning I still had the chills and I was laying down. I didn't even go through pre-game," a sniffling, coughing Cozart said after the loss. "But once my opportunity came, I ran out on the field before anyone told me. They knew if it was my time, I was ready."
Despite dealing with body aches, chills and a fever — symptoms that impacted at least four other Jayhawks, including one who did not even make the trip — Cozart moved the Kansas offense and played one of his best games.
Podcast episode
KU football coach David Beaty breaks down Kansas' 27-14 loss at Rutgers, Saturday, Sept. 26 in Piscataway, New Jersey.
He connected on 10 of his first 11 passes and finished 13-of-18 for 193 yards. All of this despite having trouble executing something as simple as barking out the snap count.
"(Center) Keyon (Haughton) was telling me, 'You gotta speak up,'" recalled Cozart, who was quarantined to his own hotel room Friday night. "And I was like, 'You gotta bear with me.' I was talking as loud as I can. I know the team was counting on me and I couldn't worry about being sick. It was time to play football."
After watching the Jayhawks fall behind 13-0 and 27-7 following the first drive of the second half, Cozart led the Jayhawks back three different times.
The first led to a Ke'aun Kinner touchdown on KU's first drive of the third quarter. The next two ended with failed fourth-down attempts, as Kansas (0-3) twice had a chance to cut Rutgers' lead to six points but instead came away with consecutive loss No. 34 away from Lawrence.
Rutgers (2-2), which won Saturday's time-of-possession battle 37:59-22:01 and finished 8-of-12 on third downs, simply made too many winning plays when it mattered most.
RU sophomore Josh Hicks ran for 113 yards and two touchdowns and the Scarlet Knights, as a team, tallied 331 yards on the ground and 513 yards of total offense.
Rutgers had plenty of moments where its offense looked sluggish — the Jayhawks forced three turnovers, interceptions from Greg Allen and Courtney Arnick and a fumble recovery from Tyrone Miller Jr. — but after recording just 294 yards during all four quarters of last week's loss at Penn State, the Scarlet Knights surpassed that total in the first half (311) against Kansas.
"We got 'em to third-and-medium and third-and-long a lot and we have to be able to get off the field," Beaty said. "They're built to run right behind them big old dudes up front and I don't blame (Rutgers) coach (Norries) Wilson. I probably would've had the same plan, to run right at us because that's what they're built for."
Added KU linebacker Marcquis Roberts, who did not practice until Thursday of last week because of the flu: "Third down, that's the biggest down you have and you have to get off the field. (It starts with) people doing their job. All 11 (have) to do their job. It works. Once we end up doing what the coaches tell us to, we end up doing pretty good. We just have to be more consistent."
While Saturday's setback likely will be remembered as another loss in the road losing streak and yet another long day for the Kansas defense, Beaty, ever the optimist, will choose to remember it as the day Cozart proved beyond a shadow of a doubt why he is one of this team's leaders and most important players.
"I think he played as hard as he could possibly play," Beaty said of the ailing Cozart. "Montell was sick as a dog and he stood up the entire time when Deondre was in there. He handled himself really well and it was no surprise to me that he came in and handled the situation."
— See what people were saying about the game during KUsports.com's live coverage.
---
More news and notes from Kansas at Rutgers
---
More like this story on KUsports.com