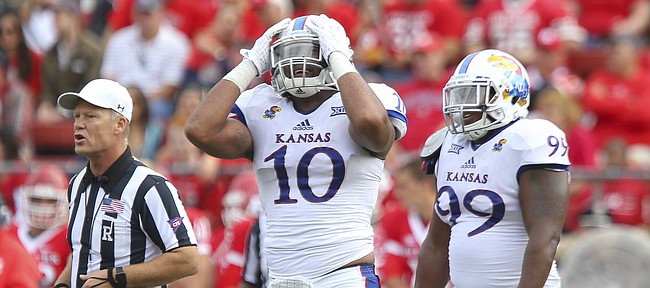 Piscataway, N.J. — Playing so short-handed in terms of depth, talent and experience, first-year Kansas University football coach David Beaty's stated goal was for his team to become the smartest football team in America.
So far, not so good on that front.
When opportunities presented themselves, the Jayhawks again too often did an impersonation of Plaxico Burress at a nightclub. Burress had such a terrific career as a wide receiver for the Pittsburgh Steelers and New York Giants. Many in NFL history can say the same, but what set him apart is that he accidentally shot himself in the leg. 
Literally.
Kansas repeatedly did the same figuratively en route to a 27-14 loss Saturday to a Rutgers team playing without its suspended best offensive player, its suspended head coach, Kyle Flood, and six recently dismissed players who had trouble following the laws of the land.
The Jayhawks (0-3) have so little room for error they must play buttoned-up football to win a game, must keep the penalty flags from flying in key spots and play clean football.
"When you're a young team, you have to learn the hard way sometimes," Beaty said after Kansas ran its losing streak in games played outside Lawrence to 34. "We just have to continue to understand those situations are what make good teams great and average teams not very good."
And they keep Kansas, a less-than-not-very-good team winless, with the hope of that changing dwindling.
Opponents can get away with playing sloppy games if Kansas doesn't play clean.
Rutgers had its fair share of Plaxico moments. The Scarlet Knights ran up 80 yards in penalties, lost the turnover battle, 3-1, and still prevailed.
Podcast episode
KU football coach David Beaty breaks down Kansas' 27-14 loss at Rutgers, Saturday, Sept. 26 in Piscataway, New Jersey.
"We've got to stop turning the ball over, stop lining up offsides and stop throwing the ball away, running backs putting the ball on the ground," Rutgers temporary head coach Norries Wilson said, not mentioning a bad snap that caused a missed extra point.
Rutgers was beatable Saturday in a sloppy game that included this three-play stretch: Rutgers quarterback Chris Laviano threw an interception in the end zone, KU running back Ke'aun Kinner's fumble was recovered by teammate Tre' Parmalee, KU quarterback Deondre Ford's pass was intercepted. Hot-potato football.
Five key Kansas miscues, presented here in chronological order, enabled Rutgers to build a 27-7 lead.
No. 1. Midway through the first quarter of a scoreless game, KU's offense mounted enough of a drive to give Rutgers bad field position to start a drive at the 9 after Eric Kahn's punt. On second and 8, KU defensive tackle Daniel Wise supplied the breathing room Rutgers needed by getting flagged 15 yards for face-masking. The home team rode that momentum to a 91-yard touchdown drive.
No. 2. On the first play with a deficit, Ford hit Parmalee for a 19-yard gain and followed that with a perfect pass to wide-open true freshman Steven Sims, a potential touchdown or at least close to one, but Sims dropped the ball.
No. 3. Early in the second quarter, Ford threw into a crowd and was wild high, enabling Rutgers' Kaiwan Lewis to pick it off.
No. 4. KU D-lineman Ben Goodman and Corey King pressured Laviano into hurrying a pass into the ground, but as Goodman caught up to him, he went high with his right hand and caught the QB in a way that resulted in a 15-yard horse-collar penalty. Instead of punting, Rutgers continued a drive that resulted in a touchdown that made the deficit 20-7.
No. 5. The way Rutgers was plowing through KU's defense, maybe this one didn't have influence the outcome of the drive, but it certainly made it easier for the Scarlet Knights. Jacky Dezir was penalized 15 yards for illegal use of hands, enabling the ball to advance to the 16. The same defense that allowed 8-of-12 third-down conversions on the day couldn't keep Rutgers from finishing the 12-play, 84-yard drive that made the score 27-7 with 5:32 left in the third quarter.
As with a game, a college football team has four quarters on the schedule, each lasting three games. The first quarter, by far the easiest one, is in the books and the first victory still isn't. As each week passes, it grows a little tough to see a victory on the horizon.
— Tom Keegan can be seen on The Drive, Sunday nights on WIBW TV.
— See what people were saying about the game during KUsports.com's live coverage.
---
More news and notes from Kansas at Rutgers
---
More like this story on KUsports.com