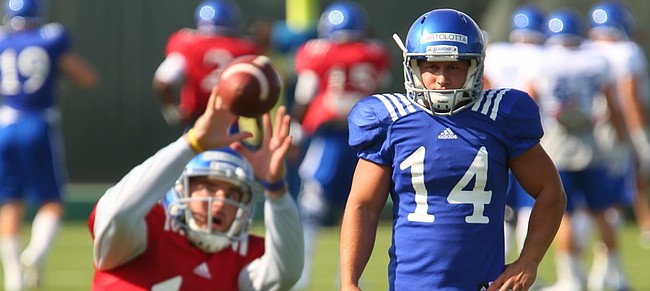 Team Imperfect has been Team Perfect in the kicking department. Meet Mr. and Mr. Perfect, aka Nick Bartolotta and Matthew Wyman.
Combined they are 4 for 4 on field goals and 7 for 7 on extra points for the erstwhile kicking-challenged Kansas University football team. Bartolotta is responsible for 10 of those kicks, Wyman one.
They share field-goal responsibilities. The long and the short of it is that the long three-pointers are handled by the long guy, 6-foot-1 Wyman, and the short kicks, including extra points, are handled by the short guy, 5-5 Bartolotta, better known as "Yoda."
With plenty of yards to spare, Bartolotta has made field goals of 23, 30 and 33 yards. Wyman made his lone attempt, from 51 yards.
Bartolotta, a transfer from College of DuPage, is in his sophomore season. Wyman, in his third year on the football team, watched from the stands three years ago.
Podcast episode
First-year Kansas football coach David Beaty talks with media members about what the Jayhawks addressed during their bye-week work, and the preparation involved for KU's first road game of the season, at Rutgers.
Yoda explained how the flexible line between his kicks and Wyman's is drawn in pencil.
"Pregame is when we decide," said Bartolotta, who stands 3 feet, 3 inches taller than the Yoda of Star Wars fame. "It kind of depends on when coach (Gary) Hyman comes up to me first and asks, 'What are you feeling? What can you hit from?' Some days I say 48 and in. I'm 100 percent consistent because we don't want 80 percent. We want 100 percent. I don't want to be 80 percent consistent. I have to tell the truth. I can say 10 times out of 10 times I can hit it from 48 and in.
"If it's beyond 48, that's when Wyman comes into play. It's based on what we decide in pregame and it depends on the wind and every other aspect."
KU's plan to use two field-goal kickers seemed risky given that confidence plays such a big part in a kicker's production. Bypassing one kicker for another created the possibility of denting the confidence of the player watching.
"I was concerned about it, initially, to be honest with you," said head coach David Beaty, whose concern has vanished. "I think each one of those kickers have kind of taken their own identity and they've run with it."
One of the creative ways the coaching staff has ensured that the kickers "compete together, not against each other," as Yoda put it, has involved daily putting the kickers in situations where the entire team has reason to root strongly for them. At the end of practice, they are put under the pressure of attempting field goals that if made subtract the number of up-downs players owe.
Above all, though, the kickers naturally became friends and have found it easy to root for each other.
"We warm up together and we march on the field together," Bartolotta said. "We bang each other on the helmet in pregame. We know how to get each other ready for games. We're a team."
The friendship doesn't end when football activities do.
"Wyman's like my big brother," Yoda said. "We hang out on weekends. We chill in the players' lounge."
When the Kansas offense has the ball, the kickers can be seen together, getting loose. They are too busy preparing mentally and physically to track field position closely in practice and games.
"We hear: 'Field-goal alert,' we run over there together and coach Hyman says, 'I want Wyman,' or, 'I want Yoda.' "
Bartolotta's path to KU kicker is no less interesting than Wyman's move from spectator to center of the entire crowd's attention.
A soccer player and wrestler at Fox High in St. Louis, Bartolotta and wrestling teammates were clowning around with a "foam football," in practice and when he was spotted kicking it, a wrestling teammate and coach who also were in the football program tried to convince him to join the football team. The football coaches took the baton from there and tried to contact him. It wasn't until the wrestling coach called Bartolotta's father, a Sicilian immigrant, to pitch the idea that the soccer player/wrestler decided to try a new sport that quickly became his favorite.
Yoda, given the nickname by Wyman, was ranked the No. 2 junior-college kicker in the nation by one service. He weighs 190 pounds and is built somewhat like a fire hydrant. He also was treated during the recruiting process a bit like man's best friend treats a fire hydrant.
"I was very underrated at C. o. D. because of my height," he said. "A lot of teams passed on me. How is the No. 2 junior-college kicker in the nation not getting these offers when the No. 5 is and other people below me (in the rankings) are?"
Rhetorical question.
"A lot of people had interest in me, but passed on me," Bartolotta said. "Because of my height, they thought: 'I'm going to have someone who's 5-foot-5 kicking for a Division I school? I can't let that happen.' The coaches didn't say that to me, but my kicking coach let me know that was the reason I wasn't getting these offers. I love it when that happens. It just fires me up."
Jamie Kohl, who holds camps across the nation, was his kicking coach. Hyman called Kohl and told him he needed a kicker and Kohl poured on the praise.
"Coach Hyman found me," Yoda said. "He didn't care about my size. He knew I could kick. He believed in me."
Hyman, Wyman and the rest of the players and coaches have no reason not to believe in him. And Yoda believes in Wyman.
"He made one from 67 yards (Monday) in practice," Bartolotta said of Wyman. "Pretty impressive. That's a lot of leg."
So far, two legs have been better than one. Perfect, to be precise.
More like this story on KUsports.com