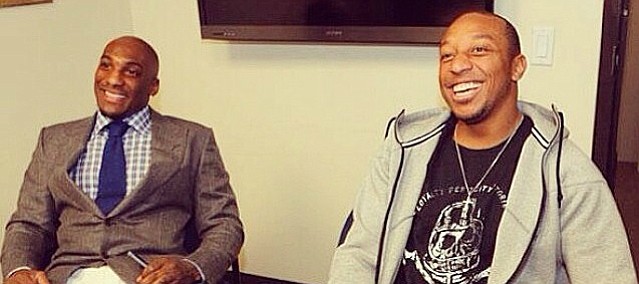 Former Kansas University cornerback Aqib Talib was named the AFC Defensive Player of the Week for his performance in Denver's season-opening victory over Baltimore last weekend.
Talib, who starts opposite fellow Jayhawk Chris Harris in the Broncos' secondary, finished with three tackles in Denver's 19-13 victory but scored the lone touchdown on the game on an interception return for a TD in the second half.

Talib, who joined the Broncos as a free agent prior to the 2014 season, is in his eighth season in the NFL and now has returned eight interceptions for a touchdown in 28 career picks.
Harris, meanwhile, was not tested much by Baltimore QB Joe Flacco and chipped in three tackles, including one tackle-for-loss in Denver's victory.
Here's a quick look at some other recent action from the handful of former Jayhawks now playing professionally.
John Cornish - RB Calgary Stampeders (CFL)
In five starts, the Canadian Football League star has racked up 325 yards and 3 TDs on 61 carries. Cornish was named a CFL top performer in Week 4 when he rushed for 120 yards against Winnipeg.
Tanner Hawkinson - OL San Francisco 49ers
Hawkinson, who recently was released by Cincinnati, is an active member on San Francisco's practice squad and therefore did not play in the Niners' Monday Night Football victory over Minnesota.
Ben Heeney - LB Oakland Raiders
Believe it or not, Heeney, the Raiders' fifth-round pick in this year's draft, played but did not record any stats during his first regular season game, a 33-13 loss to Cincinnati.
Steven Johnson - LB Tennessee Titans
After being released by Denver in somewhat of a surprising move, Johnson recorded one tackle in his first game with the Titans, a 42-14 victory over Tampa Bay.
Dexter McDonald - CB Oakland Raiders
McDonald, a seventh-round pick in this year's draft, landed on the Oakland Raiders' inactive list for his first NFL game.
Bradley McDougald - S Tampa Bay Buccaneers
McDouglad made four tackles - three solo - in Tampa Bay's 42-14 loss to Tennessee.
Toben Opurum - RB New Orleans Saints
Just days after making the Saints' final 53-man roster, Opurum did not record any statistics in the Saints' 31-19 loss to the Arizona Cardinals Sunday.
JaCorey Shepherd - CB Philadelphia Eagles
Shepherd, a sixth-round pick by the Eagles in this year's draft, is on the injured reserve list after tearing his ACL in the preseason. Shepherd was having a fantastic camp and was working his way into a likely starting role before the injury.
Darrell Stuckey - S San Diego Chargers
Stuckey, a Pro Bowl special teams player in 2014, did not record any statistics in the Chargers' five-point, 33-28, win over the Detroit Lions.