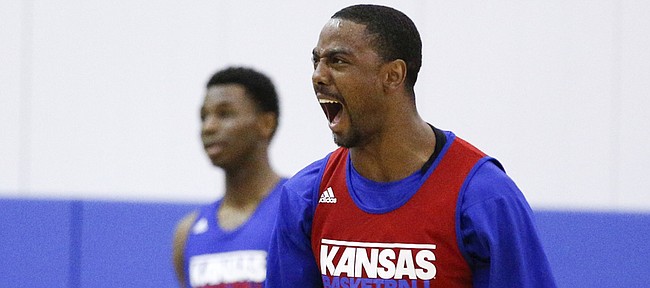 An unselfish, pass-first point guard, 2005 Kansas University graduate Aaron Miles remains the program's leader in assists with 954.
That's 150 more than runner-up Jacque Vaughn, another four-year starter from 1994 to '97.
In this day and age of increasing NBA early entry, it's a record that may stand a long time.
"Yes, yes. I know that. It's great," Miles, KU's new assistant director of student-athlete development, said, asked if he's aware of his place atop KU's basketball assists charts.
"Like I've always said, I was fortunate to have great scorers around me. I started for four years, had the ball in my hands a lot. That helped. And we were winning," added Miles, who also rates third all-time at KU in steals and 36th in scoring.
Winning is what matters most to the 6-foot-1 Portland, Oregon, native, who has put his pro career on hold a year as he recovers from hip surgery. His KU teams won three Big 12 titles, along with one runner-up finish. He also played in two Final Fours and three Elite Eights.
"Whatever I can give these kids, I'm going to give them," said the 32-year-old Miles, who, per NCAA rules, is not allowed to do any on-court coaching at practice. His work consists of office-related duties to help the program run smoothly.
"Obviously, I can talk to them (players), so whatever I am allowed to do, I'm going to do. The knowledge I acquired through the years, I'm going to share it. As long as they (players) are receptive, I'll give them whatever they want. I'm going to give them some things they may not want. I want them not only to be successful on the court, but off the court. Once your playing days are over, you want them to have success. I like to see my young brothers become successful. Even though I'm on staff now, I'm still a Jayhawk. I am a former player. They are like my little brothers regardless of my position because we are all family here. I want them to do well," Miles added.
Since his graduation, he has played pro ball in France, Spain, Greece and Russia to go with short stints in the NBA and NBA Developmental League.
He, his wife, Mikki, and four sons (Aaron Jr., Adonis, Asaiah, Avion) have made Lawrence their offseason home since 2008.
"I have a special love for Kansas in general. That Jayhawk is special," Miles said. "Everywhere I go ... go over there (overseas), and it's a sense of pride when you are playing with multiple guys who played at different universities. You are always bragging about what your school is doing.
"It's never changed for me. In Russia, this lady was walking around the grocery store, had a Jayhawk beanie cap on. I was with one of my teammates. I said, 'We (Jayhawks) are everywhere.' Obviously, I went and talked to the lady. She didn't speak any English. Her husband came to KU for work and got her that hat. I was able to brag to my teammate about us being everywhere in the world."
Miles — his Elan Bearnais Pau-Orthez squad won the French Cup in 2007 and BC Krasnye Krylya team won the Russian Cup in 2012 and '13 — may head overseas to play again.
"The doctors definitely and (former KU guard) Tyrel Reed, my physical therapist ... they say I can come back and be great," Miles said. "With new modern-day technology and procedures, people are coming back (from torn labrum) better than before they went in. I definitely can.
"For me, whether or not mentally I can condition myself to get back on the court and want to get back on the court ... it's going to be another couple months (before he can start playing again). It's going to be a little minute. That's really not my focus.
"I love playing still, but at the same time I'm going to enjoy this so much. We'll see. I'm taking it one day at a time. I'm going to take this opportunity to learn from coach (Bill) Self and the staff, people I come in contact with and just try to grow."
Miles helped out at Self's two summer basketball camps. During an introductory speech at one of the sessions, Self told the 800 campers he planned to hire Miles someday.
"He would always say that to me. That's one thing I always love about coach Self. He's always been a man of his word, not blowing smoke," Miles said. "Obviously, he's a future Hall of Famer. Just to have this opportunity to be under his tutelage, it's a tremendous honor. I'm grateful for this opportunity.
"Coach knew of my (injury) situation," Miles added. "He asked if this is something I'd be interested in. Definitely I was. Unfortunately the injury happened where I can't go play this year. Obviously it's God working. God put me in this place."
He said his family will enjoy being in this place for a full school year.
"Over there (Russia the last couple seasons), they enjoyed it because they get to come to the game and watch daddy play," Miles said. "Definitely there are more options for the kids here. They have soccer there (Russia). Here you get them swimming lessons, soccer, gymnastics or whatever the case may be. In all areas you can find something for kids to do here. Obviously my wife will be more happy because there are more things for her to do as well."
Of Miles, Self said: "Aaron's basketball career may not be over, but he is certainly going to be forced to miss this year because of a torn labrum that required surgery. I've always told Aaron I wanted him to work for me someday. This is an opportunity for him to get a jump start toward the coaching profession, see how he enjoys it and if he would want to make a career of it after his playing days are over."
Recruiting: T.J. Leaf, a 6-10 senior forward from Foothills Christian High in El Cajon, California, has scheduled an official recruiting visit to KU for Oct. 16-17, according to Jayhawkslant.com. Self had an in-home with Leaf, Rivals.com's No. 15-rated player, on Sunday.