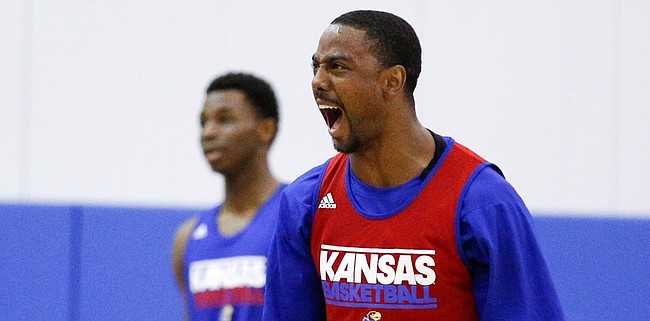 Kansas University all-time assists leader Aaron Miles, who worked Bill Self's camps in June and spent a lot of time in the KU basketball offices all summer, has been named a full-time member of the Jayhawk hoops staff.
Miles, who played for Lokomotiv-Kuban in Russia last season, on Wednesday was named assistant director of student-athlete development.
The 32-year-old Miles, MVP of the Russian Cup in 2013, will work for KU while rehabbing a nagging injury. He could possibly return to playing pro ball next season.
"Aaron's basketball career may not be over, but he is certainly going to be forced to miss this year because of a torn labrum that required surgery," Self said in announcing the hire. "I've always told Aaron I wanted him to work for me someday. This is an opportunity for him to get a jump start toward the coaching profession, see how he enjoys it and if he would want to make a career of it after his playing days are over."
Miles, who along with wife Mikki, and sons Aaron Jr., Adonis, Asaiah and Avion, have made Lawrence their offseason home since 2008, is enthused about working at his alma mater. Fred Quartlebaum is director of student-athlete development.
"I love helping people. I love basketball and I love the University of Kansas," Miles said. "This is an ideal situation for me to be able to do all three of those things. I am thankful to coach Self for this golden opportunity to work under him and learn from his staff. Everybody in this office is special and I can learn from them all."
A four-year starter at KU from 2002-05, Miles set the KU and Big 12 Conference all-time assists record (954), which ranks ninth in the NCAA Division I career record book. He's 36th all-time in KU career scoring (1,183 points) and third in steals (264). He's second in career starts (137). His 16 NCAA Tournament games played are tied for first in school history (with seven others). He played in both the 2002 and '03 Final Fours.
Since KU, he's played for the Golden State Warriors of the NBA as well as in the NBA Developmental League and in France, Spain, Greece and Russia.
Miles lent some expertise to KU point guards Frank Mason III and Devonté Graham this past summer.
"I love 'em," Miles told the J-W recently, referring to the Jayhawks' lead ball-handlers. "They work hard and I think, as point guards, we automatically are leaders. By being a leader, you have to lead by example, and I think they do a great job of that. And they're becoming more vocal, which is obviously what we also need.
"Obviously, I think Frank is just a natural scorer and Devonté has a little bit more of a traditional point guard type of play. … That's not saying Devonté can't score, but his natural instinct is to drop a pass or run the show. Frank is just in total attack mode. I think they complement each other real well."