Tre' Parmalee became the first player in the Charlie Weis era to make a commitment to attend Kansas University on a football scholarship.
Neither as big nor as fast as most Big 12 receivers, I had my suspicions that Weis was doing a favor to his former Notre Dame assistant, current Oakland Raiders running backs coach Bernie Parmalee.
Clearly not the case. Not even close.
Tre' Parmalee was nothing less than KU's best player in a season-opening 41-38 loss Saturday to South Dakota State.
Parmalee's part of the solution. The problem is not enough high school players joined him in Weis' first recruiting class that was packed with transfers from four-year schools and junior colleges.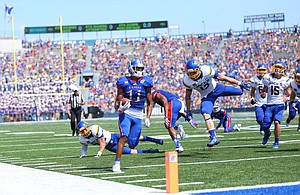 The senior wide receiver from Bishop Miege High was one of just 11 high school recruits in the Class of 2012. Seven remain in the program (Greg Allen, Courtney Arnick, Tyler Holmes, Schyler Miles, Tre' Parmalee, Tevin Shaw and Jordan Shelley-Smith). Low on quantity, high on quality.
In the season-opener, Parmalee led the team with three receptions for 82 yards and ran for a 19-yard touchdown on a reverse. His 26-yard punt return gave Kansas a shot at a game-tying drive, which ended with a shot in the foot, or was it the quarterback's hands?
Parmalee also did what a senior's supposed to do at halftime when things aren't looking too good.
The beauty of seniors who have spent their entire college careers at the same school is that with each year they take more pride in the program, feel more responsibility and develop a greater love for their uniform and school.
Plus, not much takes them for surprise. For example, on one of Parmalee's two 35-yard receptions, he was karate-chopped across the arms, drawing a pass-interference penalty on the defense. Somehow, he caught the pass. Penalty declined.
Offensive coordinator Rob Likens said earlier that week in practice, Shaw had chopped his arms in the "exact same way," and Parmalee dropped the pass. This time he was ready for it. The longer you stick around, the more ready you are for just about anything.
Parmalee and quarterback Montell Cozart have known each other for six years, having played together at Bishop Miege High, and it shows.
Likens quickly identified Parmalee as a smart football player and early in spring football identified him as KU's best receiver because he was the smartest. Parmalee has justified the coaching staff's confidence in him already.
It's a staff that constantly is coaching, delivering constructive criticism immediately. Plus, it's a staff full of coaches with strong recruiting reputations.
My main early concern regarding the staff centers on the question of whether it has been disciplined enough to resist the temptation to rely too heavily on quick-fix recruits from junior colleges and from the pool of graduate transfers. Each such move counted against the Class of 2016 shrinks the number of scholarships that go to high school recruits.
It's important to keep open spots for athletes who develop into productive senior leaders a la Parmalee, a 5-10, 170-pound ball of football knowledge.
Cozart doesn't have any interest in hearing about Parmalee's measurables.
"We've known each other for six years from Miege and when I got here we were roommates," Cozart said. "We're always throwing and we're still getting to know each other on a day-to-day basis. Tre's a very dependable, trustworthy guy and I know exactly where he's going to be."
Likens expressed similar sentiments.
"They have a lot of confidence in each other because Tre' may not be the fastest dude or whatever, but he's always where he's supposed to be and for a quarterback, that's like gold, knowing that a guy is going to break this way, he knows where he's going to be, he knows his reactions," Likens said. "There is no guess work. There's nothing worse for a quarterback (than) there's six guys coming to rip your head off, coming right at you, and you've got to let go of the ball before that receiver is open and you need to know he's going to get where he's supposed to get."
Parmalee has reached where not many others from Weis' original recruiting class have, to a fourth year at Kansas. Compiling a nucleus of players from every recruiting class represents KU's only path back to bowl contention.