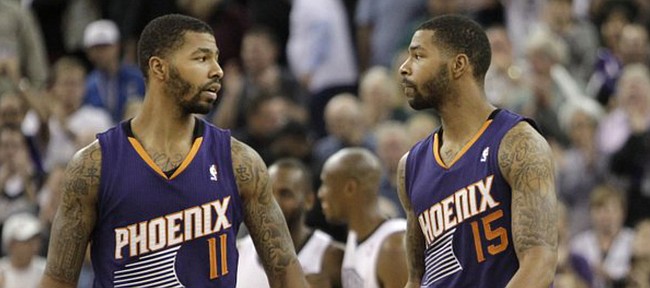 Former Kansas University power forward Markieff Morris of the Phoenix Suns on Tuesday was fined $10,000 by the NBA league office for publicly demanding to be traded.
Morris, who is upset the Suns recently dealt his brother, Marcus, to Detroit, wrote on Twitter last week, "my future is not in Phoenix." He also told the Philadelphia Inquirer, "One thing is for sure, I'm not going to be there (in Phoenix this season)."
Markieff obviously wasn't sweating the fine.
On Tuesday, he retweeted the NBA's news release announcing details of the penalty. Then he posted a positive tweet about KU football. He wrote, "Kansas football got some player makers! I'm tuned in this year ... #KU."
Brightsideofthesun.com said Morris also Tweeted a picture of Kanye West shrugging. That Tweet apparently was quickly taken down by Morris as it was not on his account later Tuesday.
Suffice it to say Morris will be a popular interview target at Suns Media Day at the end of the month.
Live period begins: A live recruiting period begins today, with KU coach Bill Self slated to have an in-home visit with Schnider Herard, a 6-foot-10, 255-pound senior from Prestonwood Christian Academy in Plano, Texas. Herard, who is Rivals.com's No. 34-rated player in the Class of 2016, will visit KU for the Oct. 9 Late Night in the Phog.
The Fayetteville Observer reports that North Carolina State coach Mark Gottfried plans to arrive via helicopter for a visit with No. 7-ranked Edrice "Bam" Adebayo, a 6-9 senior forward from High Point (North Carolina) Christian High. Adebayo is considering KU, N.C. State, Kentucky, North Carolina, Louisville and others. Gottfried also will take the helicopter to Trinity Christian High in Fayetteville, North Carolina, today to visit No. 4 Dennis Smith, a 6-2 point guard.
Alkins transfers: Rawle Alkins, a 6-4, 205-pound senior shooting guard from New York City, has decided to transfer from NY's Christ the King High to Word of God Academy in Raleigh, North Carolina, Zagsblog.com reported Tuesday.
Alkins, who is ranked No. 9 nationally by Rivals.com, has a list of 11 schools: Kansas, Kentucky, North Carolina, Texas, St John's, Louisville, N.C. State, UNLV, Maryland, Indiana and Arizona.
"As far as me, my concern is not the past," Alkins told Zagsblog.com. "A lot of coaches try to sell me on the past, like they win and all that stuff. It doesn't matter to me because I feel like anywhere I go I'm going to win so it's just really how I'm going tot be living, how's the school, whatever school is going to prepare me for wherever I need to go. Wherever I go I feel like winning is the only option."
Best ever list: In case you missed this June item, The Sporting News' Mike DeCourcy listed the 10 greatest KU basketball players of all time. The list is topped by Danny Manning, followed by Wilt Chamberlain, Clyde Lovellette, Nick Collison, Raef LaFrentz, Sherron Collins, Paul Pierce, Darnell Valentine, Dave Robisch and Drew Gooden. That would be seven bigs and three guards.